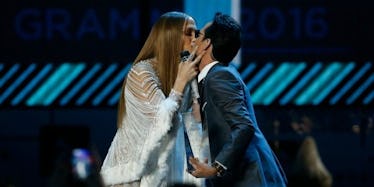 Jennifer Lopez Reveals Whether Or Not She'd Ever Get Back With Marc Anthony
REUTERS
At the moment, Jennifer Lopez is apparently gallivanting around the globe with former Major League Baseball cheater player Alex Rodriguez.
JLo and A-Rod have reportedly only been dating for a few months, but the pair appear very much in love with each other.
Recently, though, Jennifer Lopez joined the set of "Live With Kelly," and she spoke more about her kids and former husband, Marc Anthony, than her current relationship.
Speaking on the talents of her 9-year-old daughter, Emme Maribel, the 47-year-old Lopez said,
She sews. My grandmother was a seamstress, my mom's mom, that's what she did for a living. Emme seems to have her spirit … and she's taken to sewing, she's been doing it for a couple years. She did her Halloween costume. She made me a dress.
Awww!
Speaking about the dress her daughter made for her, JLo said,
It's short in the front, long in the back — my favorite color, which is emerald green. And she gave it to me for Christmas. And, by the way, it fits beautiful. Honestly, I'm not saying it 'cause she's my daughter. It fit me perfect.
Hey, Jen, does Emme do blazers? I'm only asking for a friend.
Jennifer Lopez also opened up about her relationship with her ex, Marc Anthony.
She said the pair are "like best friends" when it comes to raising their children.
She added,
At first I was like, 'We're good with the kids and everything, but if we start working together, are we gonna start going at each other again?' And it's been awesome. Honestly, I think it's even helped our relationship. We're just in a really great place, and the kids get to spend time with the two of us more together and see us working together. It's just good for the whole family.
Lopez also revealed she and Anthony are currently working together on a Spanish album.
When Lopez was asked about possibly rekindling the romantic flames with Marc Anthony, she said,
No! No no, I think we're really good the way we are. Honestly, we're always gonna be great friends. I'm always gonna be there for him, he's always gonna be there for me. We share something very special in the kids, and we know that. We're there for them, and that's the main thing.
Never say never, though, right?
Citations: Jennifer Lopez Says She Would Never Rekindle Romance with Marc Anthony: Being 'Best Friends' Is Good for Our Kids (People)