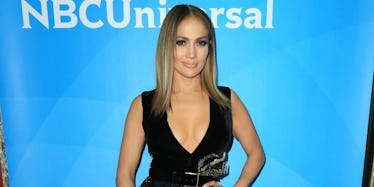 JLo Reveals Her Entire Diet Consisted Of One Pizza Slice A Day Before Fame
REX/Shutterstock
When you think about the iconic food and drink from every region of the globe, a few standouts definitely come to mind.
They like Guinness in Ireland, paella in Spain and a slice of no-frill cheese pizza in New York City.
Jennifer Lopez is one famous New Yorker who, despite being 47 years old, is still at the top of the fame game, and you're about to discover the fuel that got her there.
Speaking at the NBCUniversal Summer Press Tour in LA on Monday, Lopez opened up about how she used to eat "one piece of pizza every day" before she became famous.
JLo spoke about her new NBC dance show, "World of Dance," but she eventually got to talking about the pizza diet she adhered to before she became an entertainment goddess.
The 47-year-old said
I remember only getting to have one piece of pizza every day when I was a dancer. That's how I lived. I did that for a couple of years before I got my first big job.
What, you thought the term "starving artist" was just an expression?
Jennifer Lopez is the real deal, folks, and her quote about living on pizza proves it.
You don't get the fancy chef cooking up quinoa, shrimp and avocado toast at the drop of a hat from the very beginning. You have to work towards that.
Speaking on how those lean times gave her the foundation to stay grounded and be humble throughout her career, Jennifer Lopez said,
I wouldn't trade it for the world. For me, coming from that struggle, this is a dream come true for me. I don't say that lightly.
Come on, you know you want to sing the lyrics after reading that last quote.
Over the last few week, JLo has been gallivanting around the globe with her rumored new boyfriend, Alex Rodriguez.
The pair was recently spotted leaving a workout session in sunny Miami.
However, it's clear Jennifer Lopez will never, ever forget her first love, pizza!
Citations: Jennifer Lopez Says She Lived on 'One Piece of Pizza a Day' Before Making It Big (Us Weekly)