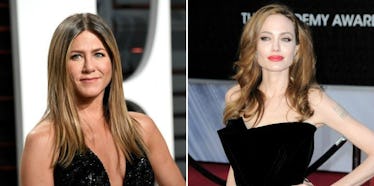 Jennifer Aniston Can't Win, Accused Of Stealing Angelina Jolie's Oscars Look
REX/Shutterstock
Actress Jennifer Aniston just can't catch a break.
Earlier this month, the 48-year-old Hollywood hottie received much praise after she was photographed in a bikini while on vacation in Los Cabos, Mexico.
Now, though, she's feeling the heat from some because of the gorgeous black, high-slit dress she wore to the 2017 Oscars.
From the moment she stepped on the red carpet Sunday night, the 48-year-old Aniston absolutely stole the show in her long, black dress.
What could folks have to complain about, right? Well, there are those who accused Aniston of stealing her look from Angelina Jolie.
In 2012, Angelina Jolie rocked a very similar black dress on the Oscars red carpet, which prompted some folks on Twitter to come to the same conclusion.
In case you're still on the fence about whether or not Jennifer Aniston stole her Oscars look from Angelina Jolie, here's another shot of Jen from Sunday night's event.
I know, Jennifer Aniston looks stunning.
Still, though, it's hard to ignore just how similar the two dresses are...
So, do you think Jennifer Aniston at least used Angelina Jolie's look from 2012 as the inspiration for her 2017 Oscars dress? In my opinion, this shouldn't really matter much in the end.
Both Jolie and Aniston absolutely crushed their Oscars appearances in 2012 and 2017, respectively.
If there's one thing we can agree on, it's the fact the 48-year-old looks amazing in any dress, right? Just check her out at the premiere of "Office Christmas Party."
In a recent interview with Variety, Jennifer Aniston spoke about how she wants to return to television. She said,
I've thought about it a lot. That's where the work is. That's where the quality is. At this point in my career, I want to be part of wonderful stories, exciting characters, and also just having a good time. When you're in your 20s, going away from home was an adventure — meeting new people, seeing other parts of the country or world was so exciting. Now it's really about wanting to stay closer to home and just enjoying your time. It goes really fast. The experience needs to be a good experience. I have no time for the yelling, angry directors or bad behavior anymore.
You do you, Jen, even if that means stealing Angelina Jolie's Oscars dress.
Citations: Jennifer Aniston Rocks Super High Slit Dress at the Oscars That Has Some Comparing Her to Angelina Jolie: Pics (Entertainment Tonight)