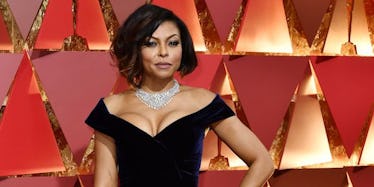 Here Are The Best Dressed Stars From The 2017 Oscars Red Carpet
REX/Shutterstock
When the clock strikes 8:30 pm EST on Sunday night at Dolby Theater, the Oscars will be all about celebrating great cinematic achievement.
But for the seven hours before that, it's all about judging people for what expensive, designer outfit their publicist shoved them into.
2017 was a pretty classy year for the Academy Awards red carpet. No one got too crazy, much to my disappointment. Instead, everyone was pretty much flawlessly gorgeous in some old Hollywood classic looks.
I really did think everyone looked beautiful out there on the red carpet, but this is the Oscars. And at the Oscars, we judge people and rank them and make them compete with each other.
So, without further ado, I present to you, in no particular order: THE BEST DRESSED STARS OF THE 89TH ACADEMY AWARDS RED CARPET!
1. Taraji P. Henson
PHEW. I said this was in no particular order, and I meant it, but "Hidden Figures" Taraji P. Henson was the winner of the night, hands down. That velvet, that leg, that necklace, that face — that's pure, unfiltered slayage.
2. Leslie Mann
Leslie Mann was a straight-up Disney princess on the Oscars red carpet — like, literally she looked like Belle from Disney's "Beauty and the Beast."
3. Ryan Gosling
Ryan Gosling showed up to the Oscars in his natural state: charming AF. Add that ruffled shirt to the equation, and no one stands a chance to resist his wiles.
4. Riz Ahmed
After seeing his look on the red carpet, I now fully understand Chrissy Teigen's obsession with Riz Ahmed. That navy blue suit is making me feel all kinds of feelings.
5. Hailee Steinfeld
OK, Hailee Steinfeld is giving me total "My Little Pony: Friendship Is Magic" vibes with this dress, and I mean that in the BEST way. She is a gorgeous Twilight Sparkle.
6. Janelle Monáe
Meanwhile, Janelle Monáe is over here killing it as some kind of fairy queen. She rules over her enchanted woods and all the woodland creatures adore her.
7. Mahershala Ali
Mahershala Ali already took home the Oscar for Best Supporting Actor in the film "Moonlight," and I think we should give him another one just for the looks he served in his sexy all-black suit.
9. Dwayne "The Rock" Johnson
Dwayne "The Rock" Johnson always crushes the red carpet in his iconic velvet suits, and he did not disappoint at the 2017 Oscars.
10. Ava DuVernay
Director Ava DuVernay gave me so much life with this bold, lacy gray dress. She went there, and y'all, she got it.
11. Karlie Kloss
Say what you will about Karlie Kloss, but she killed it in this sleek, long white gown on the red carpet.
Congratulations to all these gorgeous people on being so damn gorgeous.