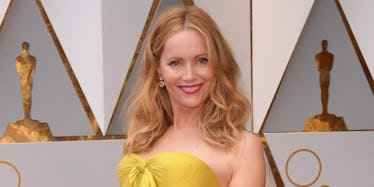 Leslie Mann Channels Belle From 'Beauty And The Beast' On The Oscars Red Carpet
REX/Shutterstock
There were a lot of gorgeous dresses on the Oscars red carpet on Sunday night, but Leslie Mann won the award for Best Princess Impersonation.
The 44-year-old actress showed up with her husband, Judd Apatow, to the 89th Academy Awards looking like a Disney princess.
As in, literally, her dress looked exactly like the one the Disney princess Belle wore in "Beauty and the Beast."
Like, I'm seeing very little differences between this yellow, flowing dress that Leslie Mann wore on the red carpet...
...and the animated yellow, flowing dress Belle wore in the 1991 film "Beauty and the Beast."
No? You don't see it? Take another look at Leslie's Oscar red carpet dress.
And now compare that to the dress Emma Watson wears in the upcoming live-action remake of "Beauty and the Beast."
Still nah? OK, let's try this: Observe this photo of Leslie Mann and Judd Apatow at the 2017 Academy Awards red carpet.
And now feast your eyes upon this scene of Belle and the Beast dancing in the original "Beauty and the Beast."
OK, OK sorry that was mean. Apologies to Judd Apatow, who actually looked very dashing in his tux.
While speaking to E!'s Ryan Seacrest on the red carpet, Judd and Leslie revealed they are soon coming up on their 20th wedding anniversary. And apparently, Judd's parents have been married for 47 years.
Judd told Ryan,
In June it goes down. Honey, could you imagine 27 more years?
To which Leslie responded,
No, no way.
To clarify, she was joking. Probably. As long as she doesn't get kidnapped by a monster that she ends up marrying.
But the point is: Leslie Mann is a gorgeous princess. That's really all I'm trying to say here. She's giving Emma Watson a run for her money.
"Beauty and the Beast" hits theaters nationwide on March 17.