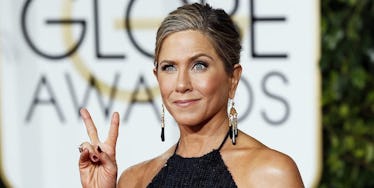 Jennifer Aniston Wants To Stop Doing Movies, Says She's Done With 'Angry Directors'
REUTERS
Jennifer Aniston feels like she's pretty done with movies at this point in her life, but she is very open to doing more television.
*whispers* "Friends" reboot.
What? Who said that?
JK, I have no idea if a "Friends" revival is in the cards, but in a recent interview with Variety, Jen did say she really wants to go back to TV... at the expense of film.
When asked if she was open to going back to television, Jennifer responded with an enthusiastic "yes."
She said,
Yes, I would. I've thought about it a lot. That's where the work is. That's where the quality is. At this point in my career, I want to be part of wonderful stories, exciting characters, and also just having a good time. When you're in your 20s, going away from home was an adventure — meeting new people, seeing other parts of the country or world was so exciting. Now it's really about wanting to stay closer to home and just enjoying your time. It goes really fast. The experience needs to be a good experience. I have no time for the yelling, angry directors or bad behavior anymore.
Oof! That's a hell of an answer to a pretty innocent question.
I mean, can we talk about, "I have no time for the yelling, angry directors or bad behavior anymore?"
Jen is DONE WITH YOUR SHIT, FILM DIRECTORS!
What I want to know now is this: Which asshole was it who burned Jen and ruined her future movies for the rest of us?
Was it Alexandre Moors, the director of the drama "The Yellow Birds," which she is currently promoting before its Saturday premiere at Sundance?
This seems likely to me, since she didn't mention him at all during the rest of the Variety interview, which -- considering she was trying to promote the film -- is unusual.
Moors is a relatively unknown director. "The Yellow Birds" is only his second feature film.
Or was Jen referencing the directors of her recent Christmas comedy, "Office Christmas Party," aka Josh Gordon and Will Speck?
Are they the ones I need to come after?
Well, whoever it was, I hope they feel terrible about themselves for driving Jen out of the movies.
The good news is, it sounds like we can expect to see Jennifer Aniston on our TV screens again soon. I'll be waiting with bated breath for that "Friends" reboot!
Citations: Jennifer Aniston on Sundance Drama 'The Yellow Birds,' Returning to TV and Tabloid Culture (Variety), Jennifer Aniston Wants to Return to TV: "That's Where the Quality Is" (E! News)