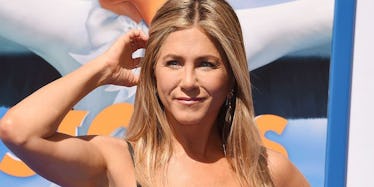 Jennifer Aniston Is 48 And Looks Better Than All Of Us In Her Tiny Bikini
REX/Shutterstock
Decades from now, when Jennifer Aniston's spirit returns to Mother Gaia, entertainment news headlines will read, "Jennifer Aniston's Six-Pack Looked Smoking Hot At Her Open-Casket Memorial And We Can't Even."
Jen celebrated her 48th birthday in Los Cabos, Mexico, over the weekend and wore the holy crap out of a blue bikini.
Her husband, "The Leftovers" actor Justin Theroux, also looked more delicious than sweet butter soup.
The super-toned spouses lounged with pals Courteney Cox and Johnny McDaid, who also looked sexy hot because that's show business, bay-beh.
Jen's been taking it easy since announcing, during a recent interview with Variety, she'd like to return to television.
She said,
I've thought about it a lot. That's where the work is. That's where the quality is. At this point in my career, I want to be part of wonderful stories, exciting characters, and also just having a good time. When you're in your 20s, going away from home was an adventure — meeting new people, seeing other parts of the country or world was so exciting. Now it's really about wanting to stay closer to home and just enjoying your time. It goes really fast. The experience needs to be a good experience. I have no time for the yelling, angry directors or bad behavior anymore.
OK, HOLD UP. Jennifer Aniston has paid her dues. No one -- NO ONE -- yells at Jennifer Aniston.
If you are working out your demons, get a therapist or an Equinox membership. Don't walk onto set and take out all your rage on this sweet, beautiful face.
That face is here to act and you'd better let it.
Fans: It's up to us to keep an eye out for any mistreatment of Jennifer Aniston. This system is based on accountability and vigilance. We cannot and will not let her down.
Here for you, Jen.
Citations: Jennifer Aniston Strips Down to a Bikini for Her 48th Birthday in Mexico (E!)