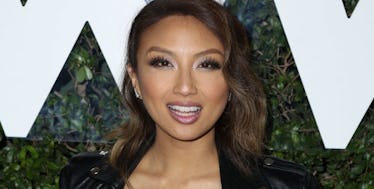 'The Real' Host Jeannie Mai Shares Red Carpet Hack Every Big-Boobed Girl Needs
REX/Shutterstock
Awards season is finally here, you guys! The 74th Annual Golden Globes will air live on Sunday, January 8, and we couldn't be more excited.
To get extra pumped for the show, Elite Daily sat down with celebrity stylist Jeannie Mai to discuss what we can expect from this year's red carpet looks.
Jeannie Mai is best known for hosting the Emmy-award winning show, "How Do I Look?," and her current daytime talk show, "The Real."
The 38-year-old fashion guru will be at the Golden Globes this Sunday and is looking forward to chatting with all the hottest stars. Because she's also a celebrity stylist, she knows a thing or two about how to look your best and kill it on the carpet.
Have you ever wondered why every celebrity looks absolutely perfect even when there's horrible lighting? Why is no one sweating? And how Natalie Portman's hair always looks so amazing?
Well, Mai shared some easy red carpet wardrobe hacks that even you can use at home.
For starters, Mai addressed the biggest concern on the table: sweating.
I don't know about you, but it doesn't need to be hot out for me to sweat. It could be freezing cold and I'll still have pit stains or sweat between my cleavage.
Oh yes, the boob sweat is real. But don't worry ladies, Mai has all the answers. She told me,
One issue a lot of women and men get is obviously nerves and anxiousness and just getting hot... sometimes it's really hot under the bright lights so sweating is a problem, whether it's under the pits, between cleaveage or between joints like under your knees when you're crossing your legs.
YOU MEAN MERYL STREEP SWEATS? I feel you, girl, we're in this together. Mai continued,
So a big tip... is to spray deodorant underneath your knees, between all the crevices... spraying deodorant right between the cleavage helps to matt it down... it works wonders.
Woah, woah, woah. So deodorant isn't just for under my pits? Who knew! Mai has a few extra tricks. She added,
For men who have heavy sweating underneath their pits – putting a sweat guard there really helps. I even went as far as putting panty liners inside the pits of the armpits – you need something to absorb [ the sweat ] so patches don't show up in pictures.
Duly noted. Thanks for the advice, girl!
In terms of what else we can expect from the Golden Globes, Mai is confident it'll be an evening unlike any other. She told us,
It might be one of my most favorite red carpets because it's so classic. Whatever you wear to the Golden Globes cannot look like something you wear anywhere else. It's the kickoff to the entire awards show season, it's the start of the year, it's recognizing such huge onscreen talent... and legendly films we'll remember for the rest of our life. So because of that, the attire is... very breathtaking... It's not about being edgy or being too risk-taking – its about being classic, timeless... effervescent.
So what's Jeannie Mai planning on wearing on the big night? She said,
I'm thinking between a ballgown, a chiffon draped dress and a really beaded classic over the top Golden Globes piece.
Can't go wrong with that!