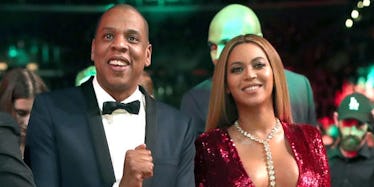 Jay-Z Invites Fans To Sing "Happy Birthday" To Beyoncé, And The Video Will Melt Your Heart
Christopher Polk/Getty Images
If you thought you had off work today to celebrate Labor Day, I regret to inform you that you're wrong. Today is of course, a celebration of the universal holiday Bey Day, AKA Beyoncé's 36th birthday. Jay-Z knows exactly what I'm talking about it: He even started celebrating a night early. During his concert at the Made in America music festival on Sunday, Jay-Z sang "Happy Birthday" to his wife Beyoncé, and directed the audience to join in.
Jay-Z was at the music festival at Benjamin Franklin Parkway in Philadelphia, PA this weekend, teasing highlights from his upcoming 4:44 tour, which will officially begin at the end of October. Queen Bey joined her husband at the festival, though she did not perform. Bey was in the crowd on Sunday night with her daughter Blue Ivy when Jay-Z gave his wife a shout-out and lead the crowd in a boppin' rendition of "Happy Birthday." Though Beyoncé's 36th birthday was technically the next day, on Monday, September 4, I'm pretty sure she appreciated the gesture all the same.
Fans recorded video of the moment on cell phones, which show the rapper doling out "Uh-huhs" of approval every time the crowd completed a line of the song.
Another fan video captured Beyoncé's reaction to the singalong. The now 36-year-old singer can be seen smiling and bopping along while the audience serenades her.
All in all, this definitely feels like the respect a Queen Bey deserves on her birthday. And that's not the only way the singer was honored. Beyoncé fans on Twitter are lighting up as they celebrate Bey Day, and Beyoncé's friends and family came together to pay the birthday girl a special tribute on Beyoncé.com. Fifteen of Bey's family and friends — including her tennis champion Serena Williams and former First Lady Michelle Obama — honored Bey by donning her famous wide-rimmed black hat, ornate necklace, and braids from the "Formation" music video.
Yeah, Jay-Z singing is cute and all, but freakin' MICHELLE OBAMA dressing up like you? Sorry bud, but you're never going to top that present!