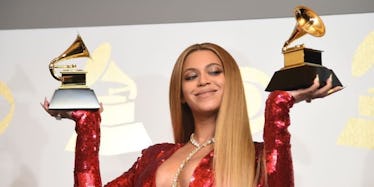 Twitter Is Ready For Beyoncé's Birthday, The Real Holiday Today
ROBYN BECK/AFP/Getty Images
Labor Day? What's Labor Day? I'm pretty sure this holiday weekend is celebrating one thing and one thing only: the birth of our queen and savior, Beyoncé Knowles. Yes, to some this Monday, September 4 may be a time to reflect on the American labor movement, but for the BeyHive it's all about Beyoncé's 36th birthday. And once you see these tweets about Beyoncé's birthday, it's hard to deny that the real holiday this weekend is Bey Dey.
On September 4, 1981, Beyoncé Knowles came into this world. Since then the Queen Bey has gifted us all with six studio albums (all of which debuted at number one), won 22 Grammy awards, and given birth to three blessed children. It just so happens that this year Labor Day — which is always the first Monday in September — falls on September 4. In fact, some people have already noticed this coincidence — including a teacher who went viral on Twitter for citing "Beyonce's 36th birthday" on the class syllabus as the reason for no class.
So, with no work or class to go to, fans are free to honor their pop culture icon on her special day on Twitter. Using the hashtag "BeyDay," the BeyHive is going full Beyoncé stan-mode today.
Of course, Twitter isn't the only website acknowledging Bey Day as the true national holiday. Beyonce's official website, Beyonce.com, had a very special birthday message for the singer on Monday. Fifteen of Beyoncé's famous friends paid homage to the singer by wearing her famous wide-rimmed black hat, ornate necklace, and braids from the "Formation" music video. These friends included Beyoncé's mother Tina Knowles Lawson, tennis champion Serena Williams, and none other than former First Lady Michelle Obama.
Look, I think when Michelle Obama dresses up like you for your birthday, you're officially the most important holiday of the day. Happy Bey Day, everyone!