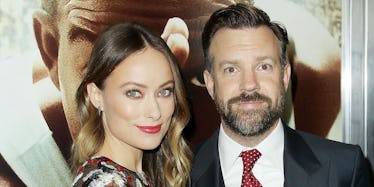 Jason Sudeikis Reveals How He Got A Date With Olivia Wilde, So Take Notes
REX/Shutterstock
Jason Sudeikis and Olivia Wilde are a gorgeous couple... but, like... how did... how did that whole thing, like... how did he... with her... do you know what I mean?
On Monday, the "Saturday Night Live" alum visited "The Late Late Show With Stephen Colbert" where he shared his secrets to wifing up one of Hollywood's most stunning, charming humans.
The host admitted,
One of you is SO attractive... You're a funny guy and you're a reasonably good-looking man. But she's a different species.
Jason agreed it's "a different thing," citing his wife's "bone structure, skin, teeth, eye color — literally just about everything."
The couple, who share son Otis and daughter Daisy, met when Olivia stopped by an afterparty for Jason's show.
He recalled,
I met her at a finale party for 'SNL.' We hit it off that night... I actually came off looking a lot cooler than I really am because I had heard through the grapevine, through mutual friends that weren't exactly her best girlfriends that would report back, 'Oh you know, I think she's dating someone...' So I didn't make any sort of moves.... I was just very, very busy with other things. And then next thing you know, when I stopped being busy, she stopped dating someone, and then it was off to the races.
Some very casual time apart as pals appears to have majorly helped these two soulmates find one another rooooooomantically.
Jason added,
We sort of reintroduced ourselves... The universe had more in store for us in the fall.
In an interview with Howard Stern last May, Olivia said Jason didn't text her for a month after getting her phone number and didn't kiss her until their fourth date.
If any of you can achieve the long game without dipping into dangerous negging territory, consider doing it the Jason Sudeikis way.
Citations: Jason Sudeikis Reveals the Strategy He Used to Land a Date with Fiancée Olivia Wilde (PEOPLE)