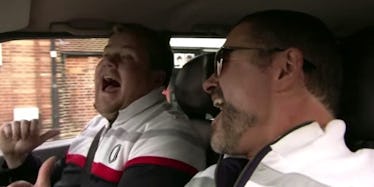 James Corden Says George Michael Inspired 'Carpool Karaoke' In Emotional Speech
CBS
This past Christmas Day was marked by a tragic event: The legendary singer/songwriter George Michael was found dead in his home, at the age of 53.
George Michael's legacy is everywhere — even in places you wouldn't expect, like James Corden's "Carpool Karaoke" segment.
It turns out, the Wham! singer had a huge influence on Corden, both personally and professionally.
In "The Late Late Show's" first episode back from holiday hiatus, Corden explained, in an emotional clip,  just how much of an impact George Michael had on him.
Corden said,
I feel like I've loved George Michael as long as I've loved music, in a way, and I know so many of his fans feel the same. I can remember so many specific times in my life where I might have felt on my own, and George's music would feel like, you would listen to a song and he would reach his hand out and tell you that you weren't on your own and that these feelings were not particular to you.
So, Corden explained, as a fan, it was hard to lose an icon who meant so much to him at such a young age.
But Corden went on to say the loss hit him particularly hard because, as some Corden fans may know, George Michael was, in a way, the very first guest on "Carpool Karaoke" and the reason the segment exists the way it does today.
Corden said that in 2011, he wanted to do a sketch with George Michael for the British charity Comic Relief, which hosts an annual television event called Red Nose Day.
Corden had a 3 am phone call with the singing legend, and they came up with the sketch: They would sing in a car together.
Years later, when Corden had his own show in the US, the sketch with George was used to get the "Carpool Karaoke" we all know and love today off the ground.
Corden said,
When we were trying to get people to do 'Carpool Karaoke' — and not many artists wanted to do it — we would send them this clip of me and George. We sent it to Mariah Carey, and she was the first person to say 'Yes.' And her words were, 'If it's good enough for George, then it's good enough for me, I'll do it.' So we all have so much to thank him for, for the music that he's given, but we personally here at this show, we owe him so much.
So even if you were never a big fan of George Michael's music, if you're a fan of "Carpool Karaoke," this legend affected your life.
RIP, George. Thanks for so much — including Adele rapping to Nicki.
Citations: James Corden Pays Tribute To George Michael With Original 'Carpool Karaoke' Clip (Esquire)