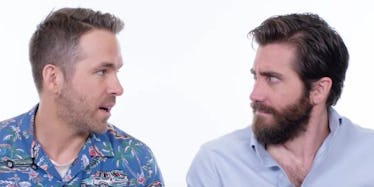 Jake Gyllenhaal Has The Best Reaction After Ryan Reynolds Tries To Kiss Him
YouTube
Jake Gyllenhaal and Ryan Reynolds can deny it all they want, but these two superstar actors clearly have the biggest and baddest bromance in Hollywood.
Monday night, Jake Gyllenhaal appeared on the "Tonight Show" and told Jimmy Fallon about how he and Ryan Reynolds formed a great friendship while shooting the sci-fi thriller "Life."
In fact, the 36-year-old Gyllenhaal revealed to Fallon how his budding bromance with Reynolds got the pair in pretty serious trouble with the "Life" producers.
Gyllenhaal said,
The whole movie takes place zero gravity, you know, like we're floating around on wires. So we're being chased by an alien, it's terrifying, but then after when we would cut we just couldn't stop laughing and joking. And it was like we wasted so much money, like, literally laughing. The producers brought us aside took us in the corner!
Bad boys, bad boys!
Well, for an encore, Jake Gyllenhaal and Ryan Reynolds teamed up with Wired to shoot one of the funniest videos you'll ever see.
As you can see in the video below, the Hollywood All-Stars answered Google's most searched questions about themselves. Naturally, things got a little, well, awkward and hilarious.
Yes, these two were full of funny lines and anecdotes, but nothing was better than Jake Gyllenhaal's reaction when Ryan Reynolds tried to kiss him.
So, are Jake Gyllenhaal and Ryan Reynolds really going to sit there and try to tell us they're not in the middle of the best bromance ever?
Don't spit on my head and tell me it's raining, guys. Please.
Gyllenhaal elaborated further on his relationship with Reynolds, telling Fallon,
They were like, 'We really need to talk to Ryan and Jake,' and they brought us in the corner they were like, 'You guys need to cut it out. We are wasting so much money!' I was like, 'WE'RE STARTING A BROMANCE! Like, give us our time!'
These two.
The 36-year-old Gyllenhaal isn't the only one gushing about his new best friend.
Ryan Reynolds had plenty to say about his "Life" co-star when he joined the set of "GMA" recently.
So, still not a bromance? Yeah.
Citations: LOL! Ryan Reynolds and Jake Gyllenhaal Answer Google's Weird and Hilarious Autocomplete Questions (E! News)