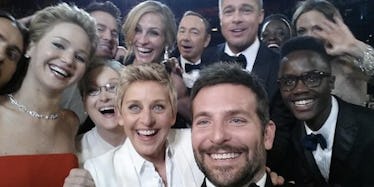 17 Of The Most Iconic Celebrity Selfies In Honor Of National Selfie Day
Ellen DeGeneres
Hey, fam, what's up? How we all doin'? A little bored today? Same. That's why I've spent most of my day on Twitter doing the bare minimum at literally every task I've taken on. My dog hasn't been walked. He's pissed at me for it. The energy in my house is f*cking toxic right now, and it's all my fault.
Anyway, while ~perusing~ through the Twitter-verse, I learned it was National Selfie Day! Wow! What a day! This is such an important holiday! Raise awareness!
Sorry I'm such a sarcastic a**hole right now, I'm really pissed I didn't get a KKW Beauty contour kit after waiting in line for literally an hour.
If you got one, we're not on speaking terms.
Anyway, my good pals at the official Twitter account created a moment in honor of National Selfie Day listing all of the celebrity selfies that broke the internet.
Well, they broke Twitter, at least, which is basically the entire internet 'cause anyone who isn't on it is a LOSER. (Just kidding, live your truth. But also, you're missing all of the #greatcontent so get the f*ck on the bandwagon.)
The list ~inspired~ me to look into all of the greatest celebrity selfies we've seen ever since they became a thing we had a name for. (Remember when they were just called pictures?? Awwwww, how young and naïve and Kardashian-less we were.)
So to commemorate this completely pointless but still fun (if you're losing your mind from boredom and this is a last resort entertainment kind of way) holiday, here are the greatest celebrity selfies OF ALL TIME, ranked by completely made up units of measurement from yours truly.
1. Mark Ruffalo made his way onto this list by posting a selfie this morning of him brushing his teeth.
Rank: Mark Brushalo. I'm sorry.
2. Bill Nye the Science Guy and Neil deGrasse Tyson took this selfie that healed the earth in one click. Hahahaha, just kidding. We're still doomed.
Rank: SCIENCE RULES.
3. Kim Kardashian's Met Gala 2017 bathroom selfie was pretty great, but not as majestic as the Ellen Oscars selfie because it doesn't have Meryl Streep and that's science.
Rank: There is literally more money in this selfie than I'll ever see in my entire life, but yeah this selfie is so relatable, love it... looking great guys.
4. THE SELFIE THAT MARKED THE BEGINNING OF THE ONLY BROMANCE THAT MATTERS.
Rank: THE MOST PURE.
5. Reese Witherspoon did the thing where she addressed the thing and everyone collectively freaked out because she addressed the thing!!!
Rank: Happy people just don't shoot their husbands, but they MIGHT PUSH THEM DOWN A SET OF STAIRS IF THEY'RE THREATENING NICOLE KIDMAN'S LIFE. (Sorry if I just ruined Big Little Lies for you.)
6. This selfie of JAY-Z that Beyoncé accidentally got in the way of.
Rank: LITERALLY JAY-Z WHAT ARE YOU DOING TAKING SELFIES GET BACK TO WORK AND BY WORK I MEAN GET OUT OF BEYONCÉ'S SHOT THIS ISN'T ABOUT YOU.
7. Chris Pratt officially left his Andy Dwyer days behind when he posted this selfie of his Guardians of the Galaxy bod.
Rank: Whatttttttt's my snack?
8. Britney Spears came through with a selfie that gave me a f*cking heart attack and a stroke at the same time.
Rank: IT'S BRITNEY, BITCH.
9. Sasha and Malia Obama took an Inauguration Day 2013 selfie because that was the right thing to do.
Rank: Please come back to us.
10. Let's not forget the time Chrissy Teigen, John Legend, and Jason Derulo were all of us reacting to Beyoncé's Grammys performance to end all performances.
Rank: Bey did that.
11. Taylor Swift posted this selfie with her cat, but the cat is the only thing that matters here because look at it.
Rank: The MOST meme.
12. Lady Gaga posted a selfie with cake, doing the Lord's work.
Rank: If I can't find the cure, I'll fix you with this cake.
13. Kim Kardashian broke the internet with this one.
Rank: Kanye is shook.
14. Kim Kardashian broke the internet again, right after it had just been fixed. Kind of rude, honestly.
Rank: I am shook.
15. Kim Kardashian broke the internet a third time for mothers everywhere.
Rank: The whole world is just shook at this point, OK?
16. RIHANNA SHUT DOWN EVERYTHING WITH THIS SELFIE.
Rank: THESE DOLCE AND GABBANA HEADPHONES COST ALMOST $9,000. EVERYTHING IS CANCELED.
17. And finally, the most iconic selfie of all time: The Ellen Oscars selfie.
Rank: Meryl Streep, the highest of ranks out of all the ranks.
Happy National Selfie Day!