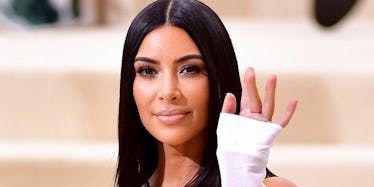 Here's How To Know If You Got The Most Accurate KKW Beauty Shade For Your Skin Tone
Getty
Kim Kardashian's KKW Beauty crème contour kits are finally here, people!!! If you got a kit, you are a truly blessed nugget.
If you're like me, though, you've been "waiting in line" for almost an hour awaiting your chance to purchase the light kit only to see Kim tweet that light sold out, like, 20 minutes ago.
Everything's fine! I'm fine! I'm not crushed or anything!
The kits come in light, medium, dark, and deep dark, but some people are a little confused about which of the four shades the kits come in they should get.
I'm so pale I could be mistaken for a White Walker from Game of Thrones, so it was pretty freakin' obvious which color my pale a** should get.
But Kardashian noticed others' confusion and tweeted in hopes of helping her fans choose the right products.
She said,
I use the medium and dark kits. The dark kit is great for medium skintones when you want a darker contour, and you can mix and match shades.
In a follow-up tweet, Kardashian said,
The dark kit I use when I am super tan or I want a more dramatic contour.
Thanks for the help, Kim! Now could you restock literally everything?
The media mogul is continuing to tweet advice to her fans who have questions about the products, which is good, considering people have lots of questions. And people try to emulate Kardashian's makeup looks all the time, so now to have products and tips from Kardashian herself is sure to be a big help to fans.
One fan asked, "Are you supposed to wet the sponge before using it?"
She quoted the tweet and responded, "I do! It helps it blend better: I even spray it with a fix spray too."
Another fan asked, "So dark can work for medium skin tones too? I want to get but worried will be too dark gutted medium sold out ha."
She responded, "I use Dark when I'm tan! Medium for regular when I'm more pale."
So, there you have it! Makeup advice from the creator herself.
If you got a hold of a contour kit, we're not on speaking terms.