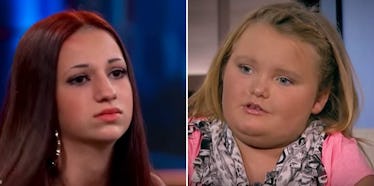 Honey Boo Boo Warns Sister About Talking Smack On The 'Cash Me Outside' Girl
YouTube
If there's anything 2017 has taught me, it's that "Cash Me Outside" girl could beat anyone's ass.
I'm serious, the girl is terrifying and clearly not afraid to throw a punch.
Dr. Phil's infamous guest Danielle Bregoli has been making headlines ever since she said the line,
Cash me outside, how bow dah?
Since that moment, our lives were changed forever. "Cash Me Outside" became the mantra for life as we know it.
Danielle recently threw shade at Kylie Jenner, Kim Kardashian and the rest of the Kardashian family, threatening to "whoop every Kardashian that there is."
I TOLD YOU. Don't mess with this girl.
Even Honey Boo Boo knows to stay away from the 13-year-old.
In a new video obtained by TMZ, Honey Boo Boo is heard warning her sister Pumpkin about "Cash Me Outside" girl after she was talking smack.
In the clip you can hear the reporter ask,
What do you guys think of that 'Cash me outside' girl? You guys seen her on TV?
To which Pumpkin replied,
I think she is ridiculous.
The reporter then brought up the Kardashians and how the family dressed as them for Halloween once. Pumpkin told him,
I don't know, I like Kylie Jenner... and that's who I would like to meet.
The reporter then asked Pumpkin if she's Team Kardashian. Before Pumpkin could answer, Honey Boo Boo interrupted and said,
Fuck is she gonna 'cash you outside' if u keep talkin' about her.
OHHHHHHH, SHIT. Put them in place, Honey Boo Boo! You can watch the full video here.
So, who do you think will win in a fight? Honey Boo Boo? Danielle? Pumpkin? Kylie Jenner?
Honestly, I'd rather see them all become BFFs. That'd be one hell of a girl squad to take on Taylor Swift.
PS. Watch the trailer below about Mama June's weight loss. Friday can't come soon enough, AM I RIGHT??!??!?!?!?!?!?!
Right!
Citations: Honey Boo Boo Warns Pumpkin About 'Cash Me Outside' Girl (TMZ)