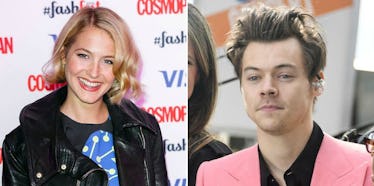 Who Is Harry Styles Dating? What We Know About His Rumored GF Tess Ward
Getty Images
Hold onto your butts, there's a new girl in town! Depending on your feelings for Harry Styles, you may or may not like it.
The world is kind of all like, "Wait, what? WHY DIDN'T HE CALL ME?!"
Harry has been linked to food blogger Tess Ward, and reportedly began to date her a few months ago. Tess is, well, gorgeous for one thing, and a somewhat famous British foodie.
She is 27 years old and runs a popular blog called The YES Chef, and is also author to a number of cookbooks including two called "The Naked Diet" and "The Naked Cookbook."
K...
Elite Daily reached out to Tess Ward's team for comment on her alleged relationship with Harry Styles but did not hear back at the time of publication.
Here are a few other details about her.
Tess Ward is a certified health coach.
OK, WE GET IT. She's in great shape and is super fit and healthy and probably can run long distances without getting winded. HOW GREAT FOR HER.
Tess also has a diploma from the Institute of Integrative Nutrition.
She is also a model.
Sure, sure, sure. Obviously, obviously, obviously.
Tess is signed to agency Models 1, and her Instagram feed definitely makes her look the part. In-between delicious images of food, you'll be sure to catch a bathing suit photo or just flat out "leg pic." (Which I'm calling now as the new trend for summer 2017.)
She loves to host.
As a cook, Tess has been known to host dinner for a number of UK starlets. On her blog, she calls these evenings "VIP dinners."
She's worked in the kitchen at The Ritz, among other famous places.
On her blog, Tess explains her approach to clean eating, focusing on "unprocessed, 'naked', ingredients." She writes,
My first cookbook 'The Naked Diet' celebrates unprocessed 'naked' ingredients and this method of stripped back cooking with a riot of delicious dishes that count colours to nourish body and tastebuds.
Tess Ward has been dating Harry Styles for a few months... allegedly...
Heavy reports the couple was allegedly introduced earlier this year by mutual friends, and only recently started "dating casually."
Which, does anyone just date a mega-celeb casually? 
Most recently, the couple was seen going for a joy ride in Styles' Audi... though, at the time, Tess was still referred to as a "mystery blonde."
However, it looks like not all Harry fans are taking the news well. Just yesterday, Tess took to Instagram to post a picture with the caption asking for her followers to "be kind."
No word yet if she will be accompanying the former One Direction band member to the Billboard Music Awards this upcoming weekend, but one thing is for sure: all eyes will be at LEAST on him.
Good luck, Tess!
Citations: Tess Ward Asks One Direction Fans to Be Kind (Teen Vogue), Tess Ward, Harry Styles' Girlfriend: 5 Fast Facts You Need to Know (Heavy)