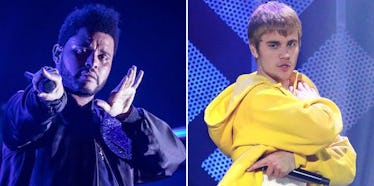 The Weeknd And Justin Bieber's Beef Is About To Get Even More Real
REX/Shutterstock
Knock-knock.
Who's there?
India.
India who?
India vent The Weeknd wins Top Artist at the Billboard Music Awards on May 21, Justin Bieber will be forced to rival his own current sadness with even more profound sadness.
That's right, drama fiends: The Weeknd and JB are competing fiercely for the Top Artist award, despite the fact they both might enjoy being Bottom Artist if they were man enough to try it.
Even if The Weeknd (aka Abel Tesfaye) loses to Bieber or one of the other nominees — Adele, Beyoncé, The Chainsmokers, Drake, Ariana Grande, Shawn Mendes, Rihanna or Twenty One Pilots — he has new boo Selena Gomez to keep him feeling validated.
Meanwhile, Justin will have to sit in his assigned seat next to one of the Chainsmokers (who you know both still wear D&G Light Blue) while he watches his ex snuggle up to her new man.
What?! Selena loves a good falsetto!
Lately, Abel and Selena have been spotted being mushy and adorable pretty much everywhere known to man, though much of their affection has been caught by paparazzi.
Yesterday, though, Abel shared a picture on Instagram that shall serve as a declaration of unconditional love for eternity (or until they break up and he wipes his account). Sorry, Justin.
In Justin's defense, he's also got some kind of love situation happening. Sort of.
Last month, paparazzi caught the Billboard nominee trying to swoop in Dementor-style on a mystery woman in the backseat of a car outside of the Fasano Hotel.
That's sort of the same thing as an Instagram official relationship, no? Whatever. There's no right way to be happy.
Winning a Billboard Award probably doesn't hurt, though.
Tune in to the ceremony's live broadcast on Sunday, May 21 at 8 pm ET to see if one of these beautiful boys takes home the golden microphone-with-a-face-on-it because, no joke, that's how a Billboard Music Award is shaped.
Citations: E!