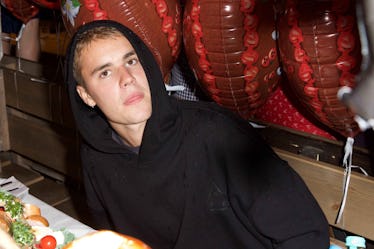 Justin Bieber Packs On PDA With Mysterious Girl And The Pics Will Gross You Out
REX/Shutterstock
Justin Bieber changes women more frequently than I change underwear.
If there has been a theme over the past year of Bieber it's the man is aggressively trying to hump his way to emotionally getting over Selena Gomez.
Over the past few months, he's been linked to Sofia Richie, Hailey Baldwin and a few other girls who look like Sofia Richie and Hailey Baldwin.
On Thursday night, the 23-year-old singer found a new girl to pack on some hilariously awkward PDA with in the back of a car outside of the Fasano Hotel.
I present to you the worst makeout sesh recorded on film.
The pictures above clearly show Justin with his arm around a new girl who is trying to shield her face either from him or from the paparazzi.
DailyMail.com reports the two were chatting in the car, laughing as they showed each other pictures on their phones. We have no idea who this person is.
In fact, if you are her please tweet at me because holy crap do we all want to hear this story.
Some are saying the mystery girl is Luciana Chamone, though that hasn't been confirmed.
Bieber is in Rio as part of a stop on his Purpose World Tour. After Rio, he plans on traveling to Sao Paolo, Peru, Ecuador and Colombia.
During this same trip, Bieber was spotted hitting up Brazil's nightlife with a hockey jersey and the loneliest pair of glasses you will ever see on someone.
While on his tour, Bieber has made sure to take full advantage of his downtime in Brazil.
He was spotted walking around a beach, greeting fans and weirdly lifting up local children.
His time in Brazil hasn't been all positive, though.
This week, Drake proudly swore his allegiance to The Weeknd when it comes to the battle for Selena.
He allegedly liked this post by Complex showing Starboy and Gomez doing some PDA stuff.
Maybe take a few extra tour dates before you come home from South America, buddy.
Citations: Justin Bieber puts on a cosy display with a mystery brunette in Rio de Janeiro as he leans in for a kiss in the back of his limo (Daily Mail)