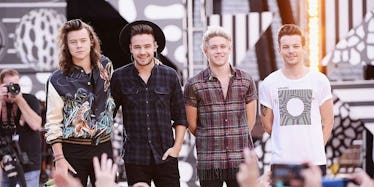 Harry Styles Talking About A One Direction Reunion Will Make You So Emotional
Getty Images
Harry Styles always knows the fastest way to our hearts, and even when we're not paying attention, he has a way of giving us exactly what we want.
Damn it, if he didn't do it again!
If you were sitting there, minding your own business, listening to his new single "Sign Of the Times" thinking, "You know what, this man deserves to be a solo artist. He shines with all the strength of a thousand diamonds and I have officially moved on from my One Direction days. Who needs a group when you've got just Harry?"
Think again. Harry just pulled a fast one on us, and brought up the idea of a reunion.
Yeah. Who wants what now?!
In an interview with Dan Wootton of The Sun, Harry muses over the boys getting back together.
It's something I would never rule out doing. Right now everyone's getting a chance to explore things they want to try and it's really cool to see what they're coming up with when it's just them in a studio writing.
Right, like ex-band mate Zayn Malik's insane success -- collaborating with the one and only T-Swift and making a video featuring his crazy gorg (and equally famous) girlfriend, Gigi Hadid.
Still, in the interview Harry reflected on his time spent in the band, and his sentiment is seriously oh-so-sweet.
He said,
The thing that I'm happiest about is that I didn't leave there in a place of, 'I feel so suppressed.' I never felt like I was faking it. I really enjoyed it. It's the best thing that ever happened to me.
I mean, us too. Obviously.
And Harry isn't the only one dropping reunion hints for us to obsess over. Niall Horan also told The Sun, "We will be back. We would be silly not to... ridiculous."
Thank you. I'm glad SOMEONE said it.
Citations: Chart-topper Harry Styles on how his new album was 'therapy', the future of One Direction and his sexuality (The Sun)