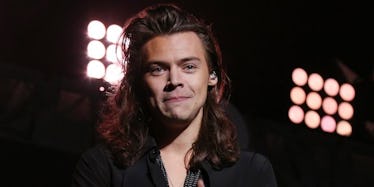 First Pics Of Harry Styles' New Music Video Are Here And It Looks Terrifying
REX/Shutterstock
Harry Styles is really going all out for his first solo single.
And by "all out," I mean the dude is literally dangling from a rope connected to a helicopter 100 feet in the air. Like, I'm actually pretty concerned about it.
New photos of the One Direction singer filming the music video for "Sign of the Times" on a remote Scottish beach have emerged courtesy of The Sun.
The pics show Harry suspended by a rope in the air.
The wide shot shows just how terrifyingly high up this doofus went for his ~art.~
He seemed pretty damn cheerful about the whole "dangling over the ocean from a helicopter" thing.
At one point, he seemed to forget he was wearing a wire at all.
So, I'm guessing Harry will be either James Bond or Superman in this music video.
No word on when exactly the video will come out.
The anticipation for this new song, "Sign of the Times," is starting to reach a fever pitch as we're now just two days away from its April 7 drop.
Last week, Harry dropped an honest-to-God trailer for the dang thing.
Who releases a trailer for a single? Who does that?
Then, a few days later, he shared the cover art for the single on Instagram, and it left fans confused and unsettled.
And now, he's apparently flying over the ocean for the music video.
Look, Harry, honey, we all know you want to impress us with this debut solo work. We know the pressure is on, especially after Zayn Malik's debut solo single was such a banger.
But you really don't need to risk your life for this! As long you don't ever get rid of that beautiful hair, I think your fans are going to stay loyal to you no matter what happens.
Well, hopefully this madness will come to an end on Friday, April 7, when the single finally drops.
Citations: HARRY'S NEW DIRECTION Dramatic pictures show Harry Styles dangling in mid-air during new music video shoot… as we reveal secrets of debut single (The Sun)