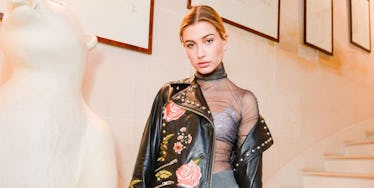 Hailey Baldwin Shades Taylor Swift's Squad: 'I Don't Understand It At All'
REX/Shutterstock
Hailey Baldwin sees your squad, Taylor Swift, and does not give a sweet EFF about it.
Taylor's infamous squad is one of the most exclusive cliques in Hollywood. Being part of it automatically raises your profile no matter what you do.
You could be a singer, actor, an axe murderer, just straight up Karlie Kloss or whatever. It does not matter.
The second you get into Taylor's group, you're set for life – or until Taylor retires and does a residency in Las Vegas at Bally's.
It's like owning an NFL team or marrying Barron Trump.
Take a look at these well-off Hollywood staples!
That doesn't mean the squad is without its critics. Since its formation, several non-squaders (AKA Irrelevant Rachels) have called out the squad for its clickiness and how generally pointless it is.
Hollywood is high school and Taylor Swift's squad is the Plastics.
Hailey Baldwin is not a member of Taylor's squad, and she does not give two craps about joining it anytime soon.
This according to a recent interview Stephen Baldwin's daughter did with Yahoo, where she said,
I don't understand the Taylor Swift squad at all. I don't know what having a squad means. I just have my friends and that's it.
She went on to say,
I don't think that you need to create a public squad. I don't know what that proves. So I don't really understand the Taylor Swift squad at all.
Like I said above, Hailey isn't the only one who has a major issue with the squad.
Demi Lovato has famously been against the squad's existence, one time telling reporters,
It's not realistic and I think that having a song and a video about tearing Katy Perry down ['Bad Blood'], that's not women's empowerment. We all do things that aren't but I have to ask myself, 'Am I content with calling myself a feminist?' Yes, because I speak out.
I'm in love with the war on squads.
Citations: Hailey Baldwin I Dont Really Understand the Taylor Swift Squad at All (US)