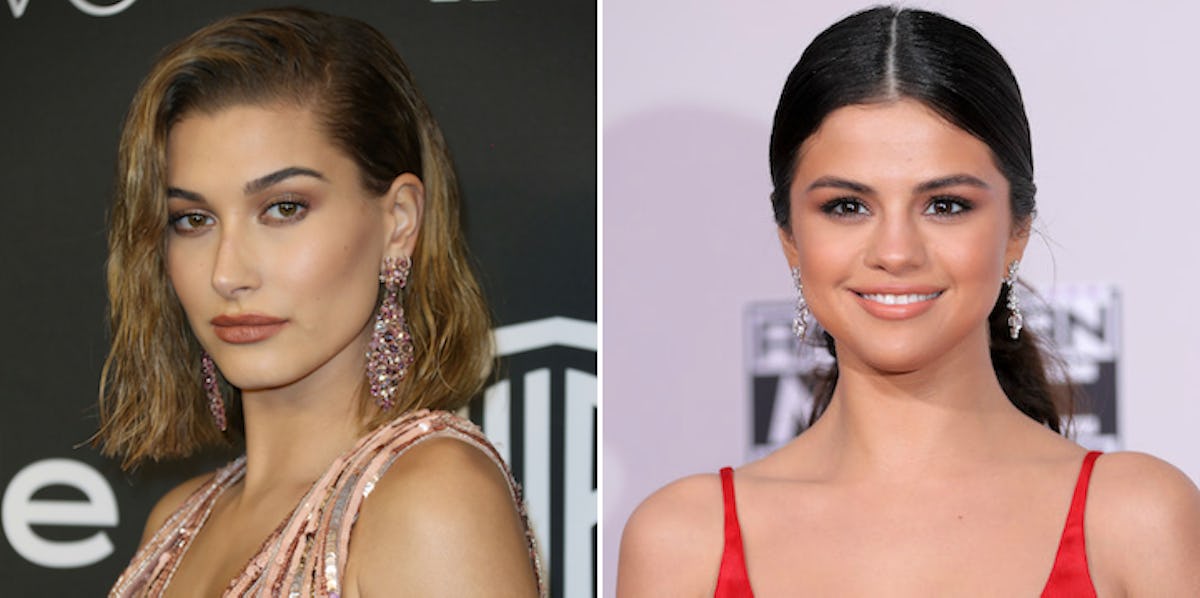 Hailey Baldwin Shades Selena Gomez, Says Nobody Is Cuter Than Bella Hadid
REX/Shutterstock
Things are getting extra shady between Hailey Baldwin and Selena Gomez.
As you probably already know, Selena Gomez was caught sucking face with The Weeknd, Bella Hadid's ex-boyfriend. The excessive PDA session took place last month and left most people confused as hell.
Why were they confused? Well, the better question is what the hell is Selena Gomez doing with The Weeknd? Doesn't she know this makes things awkward for everyone (even Taylor Swift)?!
While the exact reason behind Bella and The Weeknd's breakup is unclear, we do know Bella was NOT happy following their sudden split back in November.
The 20-year-old model was photographed giving paparazzi the middle finger just days after news of The Weeknd and Selena getting together.
Since then, people have wondered how Gomez and Hadid really feel about each other. If there's any way to gauge the tension, it's by stalking their close friends.
Enter Hailey Baldwin.
Bella Hadid's 20-year-old BFF might've accidentally shed a little light on exactly how these two ladies feel about each other. Hailey Baldwin took to Twitter to share Bella's breathtaking new bubble bath video with W Magazine.
Along with the video, Baldwin tweeted,
Wait sorry, WHO could possibly be cuter than Bella Hadid... literally nobody.
Hmm, I think this calls for a "SHOTS FIRED" alert.
Here's Hailey Baldwin's tweet low-key shading Selena Gomez while bragging about Bella Hadid.
So, is she coming for Selena Gomez or not? It's hard to tell. Luckily, there's enough information in that tweet to make an educated guess. Not only did Baldwin lead off with "wait," but she also apologizes just before asking a legitimate question...
"WHO could possibly be cuter than Bella Hadid?!"
That to me sounds like Hailey Baldwin was in the middle of a heated conversation about Bella Hadid and ~someone else~. Of course, she took the side of her BFF because that's what BFFs do.
Thanks to an information poll on Perez Hilton, it appears a whopping 49 percent of people believe Baldwin was indeed referring to Selena Gomez in her tweet.
Another 37 percent think she might've been talking about Gomez, but could also have just been complimenting Bella. Lastly, 14 percent of voters believe Hailey isn't "petty" enough to throw shade like that.
Hey, 49 percent -- that's telling! Numbers don't lie...
As for what Bella Hadid's been up to these days (besides ducking the paparazzi)? She was last seen trying to make the world a better place by protesting against President Donald Trump's controversial immigration ban.
Citations: Shade Or No Shade? Hailey Baldwin Appears To Side With Bella Hadid Over Selena Gomez! (Perez Hilton)