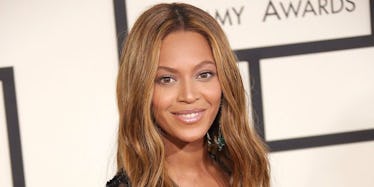 Grammys Seating Chart Confirms Beyoncé Will Be The Center Of Attention
REX/Shutterstock
The seating chart for the 2017 Grammy Awards tells us a few things.
One: Beyoncé is definitely the star of the night.
We pretty much knew that already, but these new pictures of the Grammys seating arrangement show Bey and Jay have the best seats in the house in the front and center row.
The second thing these pics tells us is Kanye West and Justin Bieber really aren't going to be there. Or, if they do show up, they'll have to stand, because they don't have seats.
Back in October, Kanye told the crowd at his concert in Oakland, California he would boycot the Grammys if Frank Ocean wasn't nominated.
He said,
The album I listened to the most this year is Frank Ocean's album. And I will tell you this right now: If his album's not nominated in no categories, I'm not showing up to the Grammys.
Well, Frank Ocean didn't get nominated for any Grammys this year — but that's because he didn't submit his album for consideration, out of protest.
It's unclear if Kanye knows that, or if he's staying away for another reason, despite scoring eight nominations himself, including Album of the Year for The Life of Pablo.
Justin Bieber, who got four nominations, reportedly doesn't think the Grammys is "relevant or representative," according to TMZ, so that's why he's skipping.
(But some people suspect it might also have something to do with avoiding his ex Selena Gomez and her new boo The Weeknd.)
As for the rest of the seats at the Grammys on Sunday, Rihanna is also getting a front row seat next to Carrie Underwood, though a little more off to the side from Bey and Jay.
Bey's sister, Solange, will be sitting behind the royal couple, next to Faith Hill, and behind her is Ariana Grande.
Well, even though Kanye and the Biebs won't be there, at least we'll get a stellar performance from a very pregnant Beyoncé.
What more can you ask for, really?
Citations: GRAMMY SEATING CHART BEYONCE FRONT AND CENTER Bieber and Kanye No-Shows (TMZ)