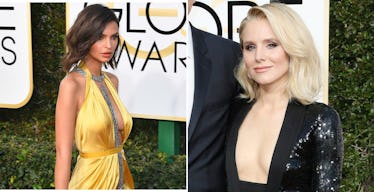 The Golden Globes Red Carpet Was One Big Cleavage Contest And These Stars Won
REX/Shutterstock
Everyone from Mandy Moore to Emily Ratajkowski came out to attend the 74th Annual Golden Globes at the Beverly Hilton in Beverly Hills, California on Sunday, January 8.
The women of this year's awards show brought their A-game on the red carpet and let me tell you, they looked flawless.
The stars wore gorgeous floor-length gowns, sparkling high heels and had their makeup and hair pinned to perfection.
It looked like prom, but way, way classier.
As beautiful as their dresses and faces may have looked, I gotta be honest with you – all eyes were on the BOOBS.
You heard me.
This year's red carpet fashion was all about the rack. The jugs of milk. The girls. The ta-tas. The golden GLOBES.
LMAO, globes. Get it...like BOOBS?
This year's Golden Globes had so much cleavage, I had to take breaks from the television screen to go take sips of water.
Things got HOT, HOT, HOT and a little NSFW, so uh, cover your daughters' eyes.
To be honest, the Golden Globes red carpet was basically one big cleavage contest. Below, take a look at 11 of the stars who won.
Mandy Moore looked gorgeous and her cleavage was out of this world.
Gina Rodriguez looked lovely wearing a shimmering, low-cut dress.
All eyes were on Emily Ratajkowski in her silver-embellished, golden gown.
Even Drew Barrymore let the girls out tonight. Hello, ladies! Welcome.
Kristen Bell's boobs were the stars of the red carpet, that's for sure.
But they definitely had to compete with Jessica Chastain's!
Amy Schumer looked stunning at the Golden Globes with her boyfriend, Ben Hanisch.
Kristin Cavallari slayed in a beaded, floor-length gown.
Priyanka Chopra wore a Ralph Lauren embroidered dress with a plunging neckline.
And last but not least, here's a cute pic of Justin Timberlake trying his hardest not to look at Jessica Biel's rack.
Couple goals. Way to crush the night, ladies!