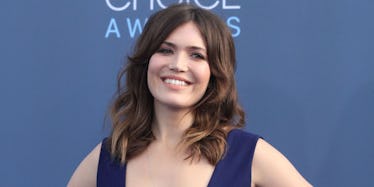 Here's What Mandy Moore Looked Like At The Golden Globes 11 Years Ago
REX/Shutterstock
MANDY MORE IS NOMINATED FOR A GOLDEN GLOBE!
I repeat, Mandy Moore is going to the Golden Globes!!!!!
When I think of the actress, I picture the iconic scene from "A Walk to Remember" where she sings "Only Hope" next to Landon in the play.
She's wearing a light blue gown and leaves the audience stunned after she performs the ballad on stage.
The entire thing lasts over four minutes, but it's worth every second.
You don't even want to know how many times I've searched for this scene on YouTube.
The movie came out in 2002, and I personally think Mandy Moore's portrayal of Jamie was one of her more groundbreaking roles.
Since then, the 32-year-old actress continued to act and make music, but it wasn't until this year that she resurfaced as one of my personal favorites.
Mandy Moore currently stars in NBC's new breakout show "This Is Us." She plays Rebecca Pearson, a wife and mother of three children.
In my opinion, the storyline is incredible, and Moore's acting is awe-inspiring. My roommate and I binge-watched the first 10 episodes in one night and bawled our eyes out.
It's emotional, real, raw and has a bunch of deep quotes you can use for an Instagram caption. What more could you possibly want?
For the first time, Mandy Moore is nominated for a Golden Globe, in the Best Supporting Actress in a Series, Limited Series, or Motion Picture Made for Television category.
She's going head-to-head against Thandie Newton, Olivia Colman, Lena Headey and her own co-star, Chrissy Metz
It's an amazing achievement for Moore, and the first time we'll see her at the awards show in years.
To honor her nomination, let's look back at what Mandy Moore looked like at the Golden Globes 11 years ago.
In 2006, the star walked the red carpet wearing a black strapless gown and hair in a messy bun.
Work those angles, Mandy!
Here's what she looks like today, just for comparison purposes.
Be sure to watch the 74th Annual Golden Globes on January 8 at 5 pm PT/ 8pm ET on NBC.
You can check out the full list of nominations here.