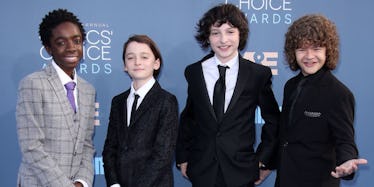 The 'Stranger Things' Cast Had The Best Reaction To Golden Globe Nom
REX/Shutterstock
Would the parents of the "Stranger Things" cast mind if I adopted their children? Just for a few days?
Because this video of the "Stranger Things" kids watching their 2017 Golden Globe nominations is making my maternal instincts kick in.
Early morning on Monday, December 12, Caleb McLaughlin, Finn Wolfhard, Gaten Matarazzo and Noah Schnapp (Lucas, Mike, Dustin and Will, respectively) got together to watch the Golden Globe nominations on the "Today" show.
Luckily, they were not left disappointed: "Stranger Things" took home two nominations, for Best TV Drama and Best Actress in a TV Drama for Winona Ryder.
The kids' reactions, which the official "Stranger Things" Twitter account shared, was pure joy.
Noah Schapp actually jumps on the table, shouting,
WE GOT NOMINATED! Just like D&D!
By "D&D," he probably means "Dungeons & Dragons," the game the boys always play at his character's house.
Two nominations may not sound like a lot, but that's pretty good for a show with only one season.
The night before the nominations, the four boys were at the Critics' Choice Awards in LA, where "Stranger Things" was also up for best drama, but unsurprisingly lost to HBO's "Game of Thrones."
"Stranger Things" will likely lose the Globe to "Game Of Thrones" as well. But if the show can keep it going past "GoT's" final season, it might have a chance someday.
The other drama series nominated at Netflix's "The Crown," NBC's "This Is Us" and HBO's "Westworld."
Other notable television nominations include five for "The People vs. O.J. Simpson," and three for "This Is Us" and "Black-ish."
For film nominations, there were seven for "La La Land," six for "Moonlight" and five for "Manchester by the Sea."
Marvel's blockbuster "Deadpool" also scored two nominations, which I'm pretty sure not even Ryan Reynolds saw coming.
See more of the 2017 Golden Globe nominations below, and find a complete list here.
Best Television Series – Drama: "The Crown" "Game Of Thrones" "Stranger Things" "This Is Us" "Westworld"
Best Television Series – Comedy or Musical: "Atlanta" "Black-ish" "Mozart In The Jungle" "Transparent" "Veep"
Best Performance by an Actor in a Television Series – Drama: Rami Malek – "Mr. Robot" Bob Odenkirk – "Better Call Saul" Matthew Rhys – "The Americans" Liev Schreiber – "Ray Donovan" Billy Bob Thornton – "Goliath"
Best Performance by an Actress In A Television Series – Drama: Caitriona Balfe – "Outlander" Claire Foy – "The Crown" Keri Russell – "The Americans" Winona Ryder – "Stranger Things" Evan Rachel Wood – "Westworld"
Best Performance by an Actor in a Television Series – Musical or Comedy: Anthony Anderson – "Black-ish" Gael García Bernal – "Mozart in the Jungle Donald Glover – "Atlanta" Nick Nolte – "Graves" Jeffrey Tambor – "Transparent"
Best Performance by an Actress in a Television Series – Musical or Comedy: Rachel Bloom – "Crazy Ex-Girlfriend" Julia Louis-Dreyfus – "Veep" Sarah Jessica Parker – "Divorce" Issa Rae – "Insecure" Gina Rodriguez – "Jane the Virgin" Tracee Ellis Ross – "Black-ish"
Best TVLimited Series/Motion Picture: "American Crime" "The Dresser" "The Night Manager" "The Night Of" "The People v O.J. Simpson: American Crime Story"
Best Motion Picture – Drama: "Hacksaw Ridge" "Hell Or High Water" "Lion" "Manchester by the Sea" "Moonlight"
Best Motion Picture – Comedy or Musical: "20th Century Women" "Deadpool" "La La Land" "Florence Foster Jenkins" "Sing Street"
Best Performance by an Actor in a Motion Picture – Drama: Casey Affleck – "Manchester by the Sea" Joel Edgerton – "Loving" Andrew Garfield – "Hacksaw Ridge" Viggo Mortensen –  "Captain Fantastic" Denzel Washington – "Fences"
Best Performance by an Actress in a Motion Picture – Drama: Amy Adams – "Arrival" Jessica Chastain – "Miss Sloane" Isabelle Huppert – "Elle" Ruth Negga – "Loving" Natalie Portman – "Jackie"
Best Performance by an Actor in a Motion Picture – Musical or Comedy: Colin Farrell – "The Lobster" Ryan Gosling – "La La Land" Hugh Grant – "Florence Foster Jenkins" Jonah Hill – "War Dogs" Ryan Reynolds – "Deadpool"
Best Performance by an Actress in a Motion Picture – Musical or Comedy: Annette Bening – "20th Century Women" Lily Collins – "Rules Don't Apply" Hailee Steinfeld – "The Edge of Seventeen" Emma Stone – "La La Land" Meryl Streep – "Florence Foster Jenkins"
Best Performance by an Actor in a Supporting Role in a Motion Picture: Mahershala Ali – "Moonlight" Jeff Bridges – "Hell or High Water" Simon Helberg – "Florence Foster Jenkins" Dev Patel – "Lion" Aaron Taylor Johnson – "Nocturnal Animals"
Best Performance by an Actress in a Supporting Role in a Motion Picture: Viola Davis – "Fences" Naomie Harris – "Moonlight" Nicole Kidman – "Lion" Octavia Spencer – "Hidden Figures" Michelle Williams – "Manchester by the Sea"
Best Director – Motion Picture: Damien Chazelle – "La La Land" Tom Ford – "Nocturnal Animals" Mel Gibson – "Hacksaw Ridge" Barry Jenkins – "Moonlight" Kenneth Lonergan – "Manchester by the Sea"
Best Screenplay in a Motion Picture: "La La Land" "Nocturnal Animals" "Moonlight" "Manchester by the Sea" "Hell Or High Water"
Best Motion Picture – Animated: "Kubo and the Two Strings" "Moana" "My Life As A Zucchini" "Sing" "Zootopia"