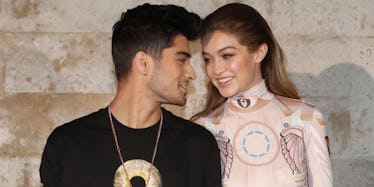 Gigi Hadid And Zayn Malik Actually Look Human In Messy First Selfie Of 2017
REX/ Shutterstock
It's easy to look at mega celebrities like Gigi Hadid and Zayn Malik and wonder, "Are these people even real?"
Well, based on Zayn Malik's latest Instagram post, it does in fact appear he and girlfriend Gigi Hadid are, dare I say it, just like you and me!
Tuesday, Zayn took to Instagram to post a picture of himself and Gigi Hadid, and the couple look remarkably messy and human in their first IG selfie of 2017.
I have to be honest, at first glance, I wasn't even sure this was a picture of Gigi Hadid and Zayn Malik.
The pair just look so, well, average.
Don't get me wrong, I'm not trying to talk shit about them or anything -- just the opposite, in fact.
I think it's extremely refreshing of Gigi and Zayn to post a normal picture of themselves.
And judging by the two million likes this photo received in less than 24 hours, I'd say the internet agrees.
Zayn didn't caption the above photo, but if I had to sum it up in one hashtag, I'd write #normal.
In reality, though, Gigi Hadid and Zayn Malik's relationship is anything but normal, right?
In December, Zayn joined "The Morning Mashup" show on SiriusXM and basically told the world his love life with Gigi Hadid is pretty much the plot line from "Fifty Shades of Grey."
The pair also took to Snapchat recently to share a steamy backseat kiss.
Speaking on their hot and heavy relationship, Zayn Malik told ES Magazine,
She's a very intelligent woman. She knows how to carry herself. She's quite classy. She's not, like, arrogant in any way, she's confident.
The 23-year-old continued,
We haven't officially swapped keys or anything yet, [but] we live together wherever we are.
So, will these two love birds swap keys in 2017?
If I were a gambling man, I think I'd bet the house.
Citations: Zayn Malik and Gigi Hadid Take Their First Instagram Selfie of 2017 (Teen Vogue)