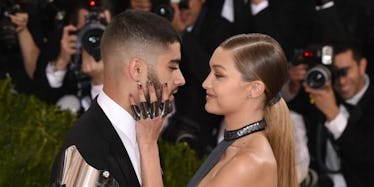 Gigi Hadid 'Played It Cool For About 10 Minutes' On First Date With Zayn Malik
REX/Shutterstock
Earlier this week, Gigi Hadid and Zayn Malik found themselves in the headlines for all the wrong reasons.
The 21-year-old model came under fire for appearing to make fun of Buddha and Asians in an Instagram video, and Zayn Malik fueled that fire by trying to defend his girlfriend on Twitter.
Yeah, not the best moment for these two lovebirds.
However, Gigi Hadid might have salvaged the week thanks to her appearance on "The Ellen DeGeneres Show" Friday. In speaking with Ellen, the 21-year-old touched on a variety of topics, including how she first met Zayn Malik.
Hadid and the 24-year-old singer/songwriter apparently met at a friend's birthday bash, and that encounter laid the foundation for their first date.
Speaking on their epic first date, Gigi Hadid told Ellen DeGeneres,
We played it cool for about 10 minutes. Then I was like, 'You're really cute.'
Gushing, the 21-year-old continued,
We connected really quickly. We kind of have the same sense of humor, and just started sharing videos.
According to reports, in November, Gigi Hadid opened up about the fact she and Zayn Malik had never been on a first date before they met each other, which makes this love story even more adorable.
Elaborating on her relationship with Malik, Hadid said,
I met him once before and he is obviously so gorgeous, but really the way we could have conversations and kind of just…we're really interested in the same things, so it was really easy. So that was amazing.
In listening to Gigi Hadid swoon about Zayn Malik, it's clear these two are deeply in love with each other. If you follow them on Instagram, you'll see their relationship seems pretty effortless and natural most of the time.
Gigi Hadid and Zayn Malik are over here being the cutest couple on planet Earth, and you can't even get a text back.
Welp.
Citations: Gigi Hadid Recalls First Date With Boyfriend Zayn Malik: 'We Played It Cool for About 10 Minutes' (Entertainment Tonight)