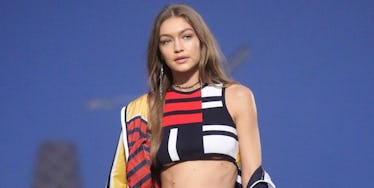 Gigi Hadid Cut Off All Her Hair And Looks Unrecognizable In New Instagram Pic
REX/Shutterstock
IT'S OFFICIALLY SPRING, aka the perfect time for new beginnings and fresh styles.
And it seems Gigi Hadid's been inspired, too.
The gorgeous supermodel is no stranger to changing up her look. Do you remember her brunette transformation?
Or how about her bob at the AMAs in 2015?
Yeah... The girl definitely loves to switch it up, and TBH, who can blame her? With cheekbones like that, she can pull off literally ANYTHING. And she knows it.
But I do think her latest transformation might just be the most dramatic one of them all.
Gigi posted a picture on Instagram that revealed her brand new spring 'do is none other than a PIXIE CUT.
YEAH, YOU READ THAT RIGHT.
And if you think this isn't a MAJOR change, let me just remind you what Gigi looked like not even four days ago...
Yeah, you guys... Those long, beautiful, honey-blonde tresses? GONE.
She also seems to have gone a little more platinum, which kinda makes sense. If you're going to go dramatic, you might as well go ALL OUT, right?
I personally think she looks AMAZING, and it's seriously such a major risk to go that short. I mean, even though it looks super easy because of the length, maintaining a haircut like that takes a ton of hard work.
You can't just let it grow out... because then, it'll just look like a mohawk.
NOT sexy.
BUT let's not get too carried away here. Some of the comments on Gigi's pic make a very valid point: It's April Fools' Day.
COULD this be a huge joke? Is Gigi trying to prank us all?
I mean, SHE DID fake the hair at the AMAs, so this whole pixie cut thing might just be an over-the-top ruse. But I really hope it isn't.
Girl, you look SO GOOD!