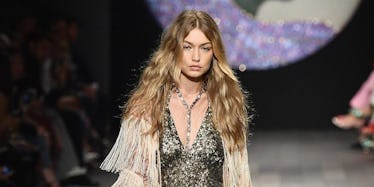 Gigi Hadid Walked A Fashion Show In Only One Shoe & It's Honestly Impressive – VIDEO
Frazer Harrison / Getty Images
Look, I'm not a model. I'm not here to tell anyone how to do their job, or what makes someone better at being a fashion icon than someone else. I am here to tell you the Hadid sisters are the supermodels of our generation, and they can literally do anything, but it doesn't take being Donatella Versace to see that. (I don't know, has Versace worked with the sisters before? Can someone check on that for me?) Here's the point, Gigi Hadid walked the runway with one shoe this past week at fashion week, and it was the best magic trick I've ever seen.
Both sisters were a part of Anna Sui's fashion show on Monday, Sept. 11, as part of the massive NYFW that takes over New York each fall. At first glance, nothing seemed amiss during the show. The sisters sported sparkling garments, flowing fringe, and cool girl makeup while strutting their super gorgeous stuff. If it weren't for the keen eyes of Hadid fanatics, we might have missed the wardrobe malfunction altogether.
In Gigi's second look of the night, the 22-year-old model glided down the runway with one teeny, tiny misplaced oddity. She was only wearing one shoe.
*GASP*
Lord, no. Say it isn't so.
From what I can tell, this is the worst thing in the entire world that could ever happen to a supermodel. Having complications with their shoes while walking down the runway is like a captain steering a boat without a wheel. (I know, there's a better analogy, but you get it.)
But don't be an idiot, reader. Gigi took the potential catastrophe in literal stride.
In the videos of her precarious walk, Hadid is seen waltzing with truly no trouble in her normal heeled left foot, and pushing off the very tippy-toes of her naked right foot. The effect is a perfect runway stroll that looks as effortless as it does impressive.
I, on the other hand, tripped this morning while brushing my teeth. Find me on Tinder, fellas.
Still, Gigi had no fear. One, she's a total professional. Two, her sister was there and from what I've gathered having a sister is basically the same thing as having a built-in super power that protects you from all harm and embarrassment.
I wouldn't know. I have an older brother who made me walk 15 yards behind him to the bus stop for most of my youth.
ANYWAY, I DIGRESS.
At the end of the show, when all of the models do the thing where they walk out in a straight line and everyone claps, Bella and Gigi brought up the rear. The two sisters had their arms thrown over each other in what I assume was a supportive hold, but it also looked more like the most fun I can imagine two people ever having.
Both "smodels" (ya know, sisters + models) were all smiles, probably making millions of dollars each for their joint efforts. (I don't know, how much does it cost to walk a runway?)
In a 2016 interview with Harper Bazaar, Gigi spoke about her anxiety around just this sort of thing. She has also admitted in the past that her walk isn't the strongest:
I've really been working on trying to get better and to learn from every show, so I take it as a learning experience, because I always want to do my best. But I think it's always going to be nerve-racking for me. There's always a little thing, like the shoes [are tight] or the dress is heavy or whatever, so that's what you're focused on, to make sure your walk is going to go well.
 Who's laughing – er, walking – now, world?