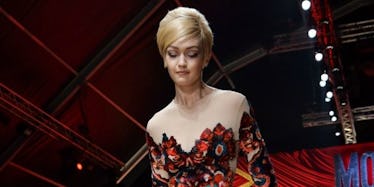 Gigi Hadid Almost Broke Her Ankle On The Runway But Handled It Like A Pro
REX/Shutterstock
If you watch models like Bella and Gigi Hadid as often as I do, you almost start to think they're too perfect. Like, please do something that lets us know you're not flawless, emotionless robots!
Don't get me wrong, I'm not trying to insult the Hadid sisters, it would just be nice to see they make mistakes like the rest of us every once in a while.
Well, it looks like I should be careful what I wish for.
Thursday, while walking the runway at the Moschino fashion show at Milan Fashion Week in Italy, Gigi Hadid appeared to step on her dress and come really close to taking a scary stumble.
Let's go to the photo evidence, shall we?
Without further ado, here's the first shot of Gigi Hadid's Moschino fashion show fail.
As you can see in the photo above, Gigi Hadid stepped down right on her dress with her left leg while walking the runway in Milan.
After she stepped on her dress, Gigi tried to recover by lifting her leg and continuing to walk down the runway.
Obviously, because she is perfect at the end of the day, Gigi Hadid was able to free her leg from her dress and continue to slay the show.
While she did handle it like a pro and make it out seemingly unscathed, let's not downplay the severity of Gigi Hadid's tangle. Just look at that leg!
Seriously, is there anything this woman can't do?
I'm also really digging the vintage hairstyle Gigi Hadid sported at the Moschino fashion show in Milan.
It takes an extremely talented model to transition through so many different looks and styles at the drop of a hat.
In case you missed it, Gigi Hadid also slayed her walk down the runway at the Victoria's Secret Fashion Show in Paris.
Simply the best.
Citations: Gigi Hadid Almost Falling on the Moschino Runway Unfolded Like a Slo-Mo Masterpiece (Cosmopolitan)