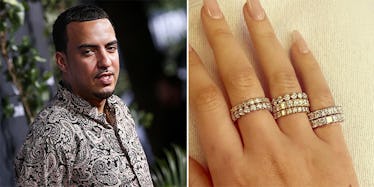 French Montana Got Iggy Azalea Not 1, But 7 Diamond Rings
REX/Shutterstock/Instagram
At the beginning of the summer, Iggy Azalea and Lakers guard Nick Young called it quits after Young allegedly cheated on Azalea with multiple women.
Well, summer's over, and Iggy Azalea is very much on to the next.
At the end of August, Iggy was spotted on a yacht in Cabo getting romantic with rapper French Montana.
I hope you assess're worth a lot to me @IGGYAZALEA pic.twitter.com/iogNWkvBrM — rest in peace (@MilyBanuet) August 29, 2016
Yeah, it certainly looked like the pair was getting pretty hot and steamy, despite Iggy's reported claims she and Montana are just friends.
Come on, Iggy boo, nobody is buying that.
Speaking of buying, it looks like Iggy's "friend," French Montana, recently did some shopping of his own, reportedly buying Iggy Azalea not one, but SEVEN diamond rings.
Iggy Azalea wrote the following caption to accompany her above Instagram post:
He told me pressure makes diamonds. @FrenchMontana @iceman_nick.
I mean, bruh, why you out here buying your girl seven different diamond rings when I can't even afford one, and my girl about to call it quits? Why would you do that to the rest of us men, French Montana?
For those of you wondering -- because I know I was -- @iceman_nick is not some sort of reference to the cold, heartless Nick Young, who has since been frozen out of Iggy's life. That's apparently the handle of French Montana's jeweler.
Just look at this crew chilling by a private jet, not giving a single fuck in the world.
You think if I ask French Montana really nicely, he'll hook me up with Iceman Nick for a really, really great discount? Like, help a bro out and donate some diamond rings so the rest of us can make our girls feel like a million bucks, right?
Fine, I'll just continue to try to save and end up disappointing her in the end, anyway. Thanks, guys.
Citations: IGGY AZALEA FRENCH MONTANA'S WEIGHING ME DOWN (TMZ)