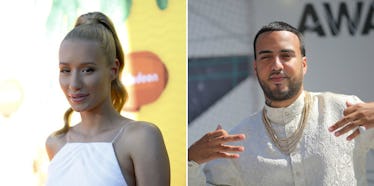 Iggy Azalea Looks Very Over Nick Young In New PDA Pics With French Montana
REUTERS
Two months ago, Iggy Azalea showed Lakers guard Nick Young the deuces after he allegedly cheated on her with multiple women.
Now Iggy is on to the next, judging from these pics that were taken of her and rapper French Montana hooking up on Sunday.
According to the Daily Mail, Iggy, 26, and French, 31, were on a yacht in Cabo when this epic smooch went down, and it looks like the celebrity pair are very much enjoying each other's company.
I hope you assess're worth a lot to me @IGGYAZALEA pic.twitter.com/iogNWkvBrM — //BABY I GOT ME♡// (@MilyBanuet) August 29, 2016
Apparently, French and Iggy first connected at Jewel Nightclub in Las Vegas this July.
French previously dated Khloe Kardashian, but he appears to be all about Iggy at the moment.
As you can see in the above video, it appears French and Iggy took a private plane to Cabo, and they may have been accompanied by some friends.
Ewwwww RT @IggyMyGoddess: Iggy Azalea and French Montana at Cabo San Lucas today! New couple? pic.twitter.com/djZmSPTPAQ — 1005 (@winteerxjustina) August 29, 2016
I'm glad Iggy got over Nick Young. She deserves someone who's going to do everything to make her feel "All The Way Up."
Side note: How many times do you think French Montana said he was "All The Way Up" while they were in Cabo this past weekend?
Citations: PICTURE EXCLUSIVE: Look who's getting jiggy with Iggy! Miss Azalea rebounds from engagement with Khloe Kardashian's ex French Montana on romantic bikini getaway (Daily Mail)