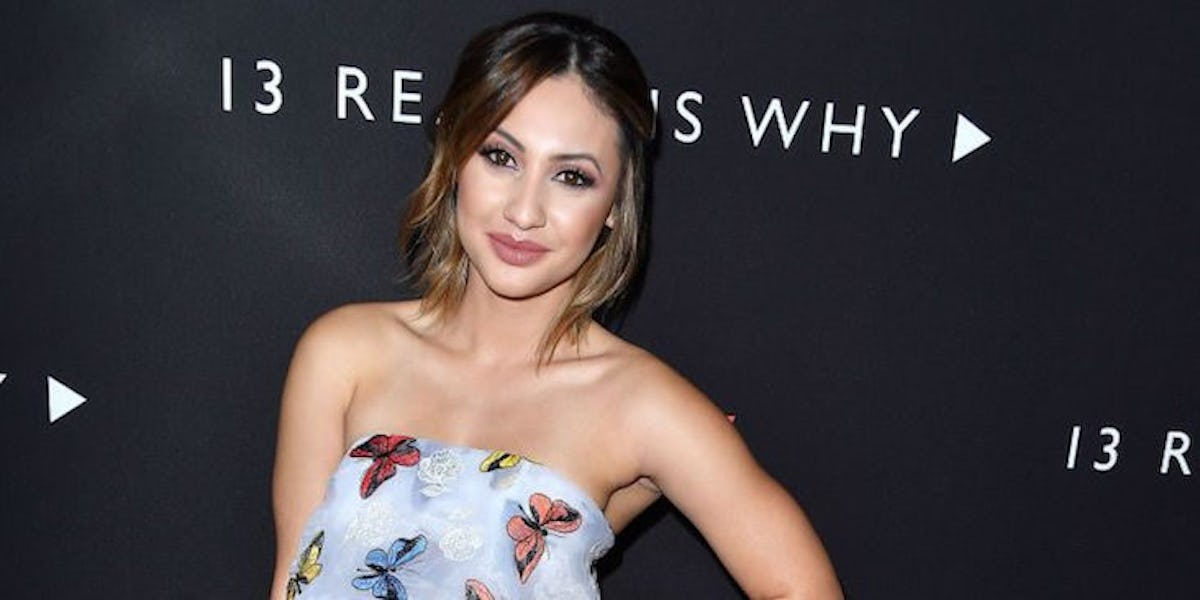 Francia Raisa Back At The Gym After Donating Her Kidney Is The Only Inspiration You Need
Getty Images/Steve Granitz
Unless you live under a rock, or you're just generally avoiding the internet lately, you've probably heard about Selena Gomez's kidney transplant this summer, which she received as a result of living with lupus, an autoimmune disease that affects over a million Americans. Gomez's best friend, actress Francia Raisa, donated her kidney to Gomez, and both women bravely took to Instagram last week to share their experience and spread awareness about Gomez's condition. If you need anymore inspiration than these two friends sharing their journey, take a look at this video of Francia Raisa working out after donating a kidney.
The avid gym-goer and dancer recently shared a video on Instagram of herself doing some strength training at the gym with her post-op scars in full view. Along with the badass look of determination on her face (and, I must say, top-notch form) during her reps, knowing that Raisa is getting back to her workout routine after enduring a kidney transplant is a pretty freaking motivating example. In fact, it kind of sheds a new light on that whole "no excuses" gym rhetoric, no?
The actress simply captioned her Instagram post, "Happy to be back." Girl, we couldn't be happier for you either.
But real talk, healing from any kind of surgery or procedure is no joke.
When it comes to a kidney transplant like the one Raisa and Gomez went through, it typically takes a minimum of four to six weeks for the donor to heal and get back on track.
According to Johns Hopkins Medicine, recovery includes experiencing pain and discomfort, and it's recommended that the donor allow at least eight weeks before getting back to work. It's also best to avoid driving for at least two weeks, as well as refrain from picking up anything over 10 pounds for at least six weeks following the surgery.
Um, can we replay those reps Raisa's doing again? The 29-year-old actress is freaking slaying.
And, as if you needed anymore evidence of Raisa's strength and courage, donating a kidney really does come with a whole slew of potential risks, and includes a long process of evaluation way before the operation even gets started. The potential risks for a kidney donor can include infection, blood loss, fever, UTI, pneumonia, scarring, injury to tissues and organs, and even possibility of death. On the other hand, long-term risks are few, so if you manage to get through the initial healing process, it's all generally smooth sailing after that.
But seriously, a majorly important part of the experience these two famous friends shared is the platform they have to spread awareness of a disease that affects so many, is not particularly well-known, and is often misunderstood.
Lupus is a chronic inflammatory illness in which your body attacks its own organs and tissues.
According to the National Institute of Arthritis and Musculoskeletal and Skin Diseases, this incurable condition can affect a person's skin, joints, lungs, kidney, blood cells, and brain. The cause of lupus is not yet known, and while it's thought that there may be some genetic factors involved, it's also believed many other health-related variables can be at play to cause the disease.
The positive takeaway here is that living a healthy and productive life with lupus is totally possible, and much of doing so is about learning how to cope with and manage the disease. This can be accomplished through proper nutrition, sleep, medication, and professional guidance for any symptoms being experienced or organs being affected.
And, as we've seen from the next-level friendship and bravery from Gomez and Raisa throughout this ordeal, a person's quality of life doesn't necessarily have to be compromised when it comes to living with lupus, or even when enduring a major surgery like a kidney transplant.
To say the least, Raisa pumping iron and proudly sharing her scars with us all is the only inspiration we'll ever need.