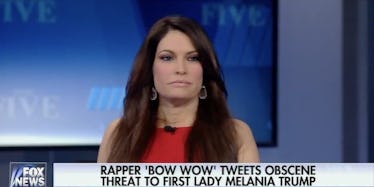 Fox News Suggests Secret Service 'Kill' Snoop Dogg And Bow Wow Over Trump Disses
Twitter
President Donald Trump is not a fan of Snoop Dogg's latest musical offering.
That's probably because the music video for the 45-year-old rapper's new song depicts Trump being shot in the face from point-blank range.
The music video titled "BADBADNOTGOOD" shows a President Trump look-alike named "Ronald Klump" wearing a clown mask as Snoop Dogg aims a toy gun at his face and pulls the trigger.
As expected, the controversial visual sparked widespread outrage.
Trump himself took to Twitter to denounce Snoop's video after his lawyer suggested the rapper apologize to the president.
Unfortunately for Trump, it doesn't look like Snoop plans on apologizing. That much was made clear after Snoop Dogg's "nephew" and ex-rapper Bow Wow took to Twitter to defend Snoop against Trump.
Bow Wow decided it'd be a genius idea to threaten to "pimp" First Lady Melania Trump and "make her work" for him and "uncle" Snoop Dogg.
The retired rapper's "pimp" comments sparked more outrage, this time from both sides of the political aisle. Bow Wow received waves criticism from just about anyone with a brain and rightfully so.
I mean, where on earth is it acceptable to threaten to "pimp" anyone (especially the president's wife)?!
However, one news host might've taken things too far after she suggested lethal punishment for Snoop and Bow Wow's actions.
Instead of simply denouncing their remarks, Fox News anchor Kim Guilfoyle suggested the Secret Service "kill" both of the rappers.
After suggesting that the Secret Service "kill them," the 48-year-old reporter then said she thinks it'd be "fantastic if Snoop and wannabe Snoop got a visit from, like, the federal marshals."
She probably should have just said the last portion and left out the "kill them" part, though.
Excuse me, Ms. Guilfoyle, but you can't fight fire with fire!
The internet works way too fast, though...
Guilfoyle's comments sparked more outcry on social media.
Um, yeah, next time, just take the high road, lady.
Suggesting that two people be killed for their outlandish comments only makes you just as irresponsible as they are!
As for Bow Wow, the people are still waiting for him to delete his account.
Citations: Fox News Host Thinks Snoop Dogg and Bow Wow Should Be 'Killed' for Anti-Trump Actions (Complex)