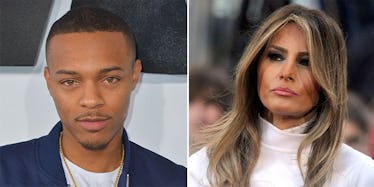 Bow Wow Defends Snoop Dogg Against Trump, Threatens To 'Pimp' Melania
REX/Shutterstock
The internet was just reminded of Bow Wow's existence after the 30-year-old retired rapper defended his "uncle" Snoop Dogg on Twitter.
Snoop faced immense backlash for his controversial music video which depicted President Donald Trump being shot in the face by the 45-year-old rapper.
In a music video titled "BADBADNOTGOOD," Snoop Dogg pretends to shoot a clown and President Trump look-alike in the face with a toy gun.
Mr. Trump, as well as other politicians, publically denounced the video. The president himself condemned Snoop Dogg's controversial music video on Twitter.
Now, Bow Wow is coming to Snoop Dogg's defense. The ex-rapper caused quite the stir when he threatened to "pimp" First Lady Melania Trump.
He took to Twitter to issue the threat on March 15. The tweet reads,
Ayo Donald Trump shut your punk ass up talking shit about my uncle Snoop Dogg before we pimp your wife and make her work for us.
Nope, I'm not kidding. He actually tweeted that.
Behold Bow Wow's tweet threatening to "pimp" First Lady Melania Trump and "make her work" for him and Snoop Dogg.
It didn't take long before other users began calling him out.
Even "Black Twitter" had something to say about it.
Some Trump supporters feel there is "no feminist outrage" over Bow Wow's comment solely because it targets Melania.
It seems there is outrage though, and it's coming from all sides, not just Trump supporters.
His comments triggered his critics to even attack his personal life, but he kinda asked for it.
People are even calling for the Secret Service to investigate Bow Wow for his comments about Melania.
We'll just have to see where this goes, folks. But all this does is further prove one FACT (it's so true).
Neither Snoop Dogg nor President Trump have commented on Bow Wow's "pimp your wife" threat. Snoop did post this video though.
Something tells me he is anything but sorry!
Oh, and Bow Wow, as Hillary would say, "delete your account."