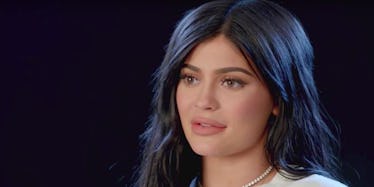 Fans Are Shaming Kylie Jenner's Reported Pregnancy And The Tweets Are So, So Brutal
YouTube
Just seconds after TMZ first broke the news that Kylie Jenner is reportedly pregnant with her first baby with Travis Scott, the internet took hold of the rumor and ran with it. And, unsurprisingly, it wasn't all glitter and unicorns when it came to fans reactions' about Kylie's rumored pregnancy. Instead, the tweets about Kylie's reported pregnancy with Travis Scott are not just ugly, they're downright brutal. Elite Daily reached out to reps for both Jenner and Scott on the reported pregnancy, but did not hear back at the time of publication.
TMZ first reported the story, noting that Jenner first started telling friends about the reported pregnancy earlier in September at the Day N Night Fest in California. TMZ also reported that Scott too has been telling his friends that he and Jenner are reportedly expecting a girl. (Elite Daily reached out to representatives for both stars on this report, but did not hear back at the time of publication.) According to a source who spoke to People, Jenner and Scott "started telling friends a few weeks ago. The family has known for quite some time. She is really excited and so is Travis!"
A second source, who also spoke with People, said: "It is an unexpected but completely amazing turn of events that she could not be more excited or thrilled about. Everyone is overjoyed for her. This is the happiest she's ever been."
Seems like everyone but Twitter is psyched for the 20-year-old lip-kit creator and her rapper boyfriend.
Apparently, Kylie's Not A Role Model?
People Went For Jenner's Looks (And They Didn't Stop There...)
Then There Was This One...
And This One...
Some Felt Scott Had "Ruined" His Career
And Others Felt That This Was The Time For A Kylie/Rihanna Beauty Tweet
Whoa.
Literally All Of Twitter Thought This Was Planned
And Then People Brought Up Khloé
OK, first things first. No one's life is "ruined" just because they're having a baby — especially if that baby is wanted and if the people involved with the pregnancy are ready and willing to take on the responsibilities that come with raising a child. To add another layer, Jenner and Scott have not even commented on the reported pregnancy yet, so before people start shaming two young adults for something that may (or may not be) true, let's give the two of them the respect and privacy they deserve. Also, unconfirmed reports say that Jenner is reportedly four months pregnant, which means she has likely had plenty of time to sit with this information and make the best-informed, most logical decision she can. And if Scott has consented to be her parenting partner in all this, if the rumors are true? Well then, even better.
Next, let's talk about the "talent inside her" tweet. Uh, no. No. No. No. In case you all forgot, regardless of your personal feelings on Jenner, she is an incredibly savvy young woman with an incredibly gifted business acumen. Her lip kits? According to an Aug. 10 report in Forbes, Jenner's Kylie Cosmetics is on track to become a $1 billion company — that's a lot of money for a woman whose only talent resides in the semen of the dude she's dating, huh?
Shaming Jenner and Scott for their reported baby announcement isn't just low, it's totally uncalled for. Sure, it may be too young to have a baby by some of our standards, but who really cares? It's their decision if Jenner is actually expecting (and that's a big if, considering neither Jenner nor Scott has commented publicly on the rumored pregnancy yet). At the very least, Jenner's in the best possible situation to have to provide for a child. If that's a decision she's made and is cool with, then more power to her.