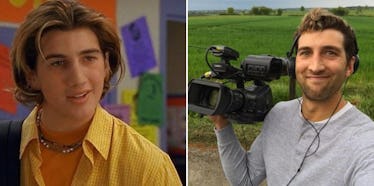 Ethan Craft Is Making A Rom-Com For All The 'Lizzie McGuire' Lovers Out There
Buena Vista Television/Instagram
The one and only Ethan Craft from "Lizzie McGuire" will make every '00s queen fall irrevocably in love with him all over again on screen.
Let's be real here: Anyone and everyone who was born in the '90s had a hardcore crush on Ethan, Lizzie McGuire's hunk of a heartthrob.
Remember that one-of-a-kind Ethan Craft hair, to-die-for smile and charismatic personality? Well hold on ladies, because he's back.
Ethan, aka actor Clayton Snyder, is working on an exciting new project for all the hopeless romantics out there… so get your chocolate fudge ice cream and vino ready for this one.
I spoke with Clayton about the Kickstarter campaign for his romantic comedy called "A Beautiful Risk."
Clayton gave us some insight into what the campaign is all about. He said,
What sparked this film was the desire to create something original, continue to bring diversity to film and to tell a story that brings us back to family. We knew that before pitching the project to studios, we wanted to create tangible figures that would help show them that this is what people are wanting to see.
As far as the skinny on Clayton's character is concerned, this time around he's taking on the role of Frankie Belli, who Clayton reveals will bring that Ethan Craft confidence we all found oh so sexy back to the big screen.
Frankie is an extremely dynamic professional who's not afraid to take risks. He's a regular, relatable guy balancing the stress of business, family and working on a relationship.
He described Frankie as,
This Italian-blooded, charismatic guy with a big heart for those close to him and an aggressive businessman who has no interest in playing it safe. Just, except when it comes to romantic relationships. Depending on what you're looking for, he could be very much prime BF material, and definitely a charmer.
Clayton continued,
'A Beautiful Risk' follows Frankie and his two best friends and business partners, Charlie and Rooney, and the story focuses on cultural and familial identity as these guys find their significant others.
Clayton is able to get into the Italian character, as he has relatives he spent time with in Lake Como, Italy. While there, he learned to speak Italian and even participated in a professional water polo league in Sardinia.
How rad is that?!
OH, and his family owns a wine vineyard.
This romantic comedy is lighthearted, but touches deep subjects encompassing many aspects of love and life.
The 29-year-old actor gave us some more exciting inside scoop on "A Beautiful Risk."
Elite Daily: What do you think your fans will enjoy most about your role in your new project?
Clayton: Fans will definitely be happy to see he's got a familiar enthusiasm, energy and playfulness to Ethan Craft. A "Guys let's make this happen!" kind of attitude. Also similar to Ethan, he is there for his friends when they need him. But between his business savvy, family dynamic and actually dealing with a relationship, it's different enough to be something fresh and new for fans to say, "Oh, he can do that too!"
Elite: What is one piece of advice you think any guy can take away from this movie?
Clayton: All right, gonna get a little deep here. I'd say it's intentionality. I think relationships are most powerful when it's a choice, when you're really intentional about it. A lot of films go on about feelings, and yes, those can be great. But they can also be unreliable. Our guys deal with assumptions on who their family wants them to date, a casual go-with-the-flow relationship and being too scared to even say hello. "ABR" says, "OK, guys what are we doing?"
And for all my fellow romantic comedy lovers out there who are low-key hopeless romantics at heart, Clayton has some advice for you. Most importantly, "work on yo'self."
The main dude of the hour said,
A common idea is that there's some person out there who will make you whole. Rubbish. I think that belief can really set you up for unrealistic expectations and heartbreak.
When asked, Clayton also does not believe chivalry is dead. His bros are gentlemen that believe in the old fashioned concept of opening car doors.
He believes before you wait for someone great to come along to be "the one," you better take an honest look at your own life and ask yourself if you're doing your best.
Check out Clayton's incredible campaign for "A Beautiful Risk," and tell all your gal pals that Ethan Craft is back. The last day of the Kickstarter campaign is Valentine's Day, so if it peaks your fancy, show it a little loving and contribution before then!