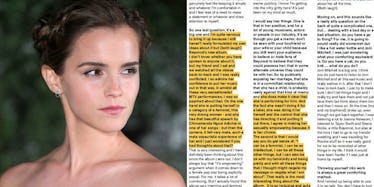 Emma Watson Defends Herself On Twitter After Those Beyoncé Feminist Comments
REX/ Shutterstock/ Twitter
Emma Watson learned a valuable lesson this week, and we should all take notes.
She learned you should never mess with Beyoncé and her BeyHive -- and that if you do, they'll never let you live it down.
Bey's swarm of followers were super pissed early this week when Emma's Vanity Fair photos were released, and bombarded the actress on Twitter after the pictures were published.
They argued her revealing outfit was hypocritical, as she dissed Beyoncé's feminism during an interview where she discussed the singer's famous album, Beyoncé, in 2014.
That's right: The interview was in 2014.
THE BEYHIVE REMEMBERS ALL.
During the interview, Emma revealed her opinion about Beyoncé's album, saying,
As I was watching [the videos] I felt very conflicted, I felt her message felt very conflicted in the sense that on the one hand she is putting herself in a category of a feminist, but then the camera, it felt very male, such a male voyeuristic experience of her.
After her photoshoot was released, people started complaining the actress wasn't a "real feminist" because she posed in revealing outfits. Emma fired back in an interview, saying feminism was about choices and she "didn't know what [her] tits had to do with it."
This pissed the BeyHive off, as they started tweeting at the actress to point out her "hypocritical" statement about Bey years earlier.
Well, it looks like the backlash from the BeyHive was too much for Emma to handle because she posted a response to the ridicule on Twitter early Tuesday morning.
The picture Emma shared had her entire interview about Beyoncé written out, and she bolded her responses so fans could read them and seek the truth in what she said.
She made her point clear by reminding her followers and the BeyHive that she did support Beyoncé's actions and feminism, regardless of her "conflicted" feelings.
During the interview, Emma allegedly said,
The second is that I would say you do get sense of, 'I can be a feminist, I can be an intellectual, I can be all these other things, but I can also be ok with my femininity and being pretty and with all these things that I thought might negate my message or negate what I am about.' That really is the most interesting thing about the album. It is so inclusive and puts feminism and femininity and female empowerment on such a broad spectrum.
See! Emma does respect Beyoncé and her artistic choices, so everyone can calm the hell down.
Citations: Emma Watson defends her 2014 comments about Beyoncé (Mashable)