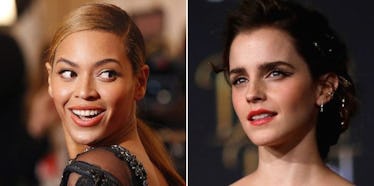 Beyoncé Fans Are Going After Emma Watson Over Her Response To Topless Photos
REX/Shutterstock
Emma Watson is finding out the hard way that you do not mess with Beyoncé and her BeyHive.
The controversy started when Vanity Fair shared their March cover photo featuring the 26-year-old "Beauty And The Beast" actress.
This is Emma's Vanity Fair cover.
While the cover is obviously not super racy, some of her pictures from inside the edition have gotten Emma in a buttload of trouble.
Vanity Fair captioned the post,
Maturing from Hermione to Belle in @beautyandthebeast is a true coming-of-age story for @EmmaWatson: "I couldn't care less if I won an Oscar or not if the movie didn't say something that I felt was important for people to hear." Read the full cover story at the link in bio. Photograph by Tim Walker.
What makes this underboob shot super hypocritical is Emma was militantly against Beyoncé showing any form of cleve in her music videos during an interview with Wonderland.
During the interview, she reportedly said,
As I was watching [the videos] I felt very conflicted, I felt her message felt very conflicted in the sense that on the one hand she is putting herself in a category of a feminist, but then the camera, it felt very male, such a male voyeuristic experience of her.
The web has taken note of this seemingly hypocritical response and has been calling out Emma online since the photos were released.
The irony of this whole beef is that Emma attended the premiere of "Beauty And The Beast" with Beyoncé, Jay-Z and Blue Ivy last week.
Beyoncé's fans have even started flocking over to Emma's personal account to debate with her fans about whether she was out of line with the comment and picture series.
Bee Emoji = Angry Yoncé Fan
Soooooo, what do you think? #TeamEmma, or #TeamYonce?
The new "Beauty and The Beast" comes out March 17.
Citations: This Is the 3-Year-Old Reason Why the BeyHive Are Going After Emma Watson (Cosmopolitan)