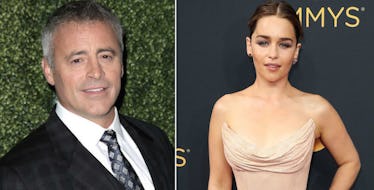 Matt LeBlanc Made A Creepy Comment To Emilia Clarke About Her 'GOT' Nudity
REX/Shutterstock
Come on, Matt LeBlanc.
The beloved "Friends" actor made an inappropriate comment to "Game Of Thrones" star Emilia Clarke while being interviewed on the Emmys red carpet.
The two were being interviewed on the red carpet through a video call and discussed a recent photo they took.
During their talk, Matt LeBlanc was asked if he was a big fan of "Game Of Thrones."
Instead of replying "Yes, definitely!" or "Unfortunately, no..." like a normal human, Matt took things a bit too far and said,
I saw the first season and then kind of fell out of touch with it...and I guess that's when she started getting naked, so I need to catch up.
*Cricket cricket.*
Ummm, what was that?
Come again?
Twitter immediately blew up and was disgusted by Matt's creepy comment about Emilia.
People called out the actor for bringing up Emilia's nude scenes AND making the comment to her face.
Yeah, fans are not happy. COME ON, MAN.
Hmm, perhaps Matt could have focused on Emilia's accomplishments as an actress. After all, that's what the Emmys is all about, isn't it?
Maybe he could have congratulated Emilia on her performance as Daenerys Targaryen or the award she's up for this evening?
I don't know, just a thought.
Get it together, LeBlanc. Emilia doesn't need this shit.