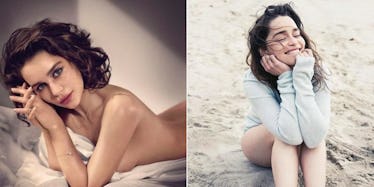 14 Pictures That Prove Daenerys Targaryen Really Is The 'Sexiest Woman Alive'
Hey "Game of Thrones" fans, it looks like your girl Emilia Clarke has been voted the "Sexiest Woman Alive." Hell yeah, Khaleesi, way to kill it, you sexy thang.
It's honestly not too surprising since I often find myself drooling over her every episode. Nonetheless, it's a well-deserved title.
For those who aren't in the "GoT" fandom (shame on you), the actress plays the beautiful Daenerys Targaryen, aka Khaleesi on "Game of Thrones." Simply put, she's the one with that majestic white hair who hangs out with dragons. Yeah, she's cool AF.
But more than that, she's drop-dead gorgeous. I MEAN, CLEARLY.
This title has previously belonged to Penelope Cruz and Scarlett Johansson. Seriously, bow down.
OK, KHALEESI. I SEE YOU.
In honor of this momentous occasion, let's check out some of Emilia's ~sexiest~ pics that prove she is indeed the "sexiest woman alive."
Yeah, OK. Let's start with this goddess pose right here. Just take note of everything that's happening.
Oh, wow. That mirror is just like, "Yes God, thank you for this moment."
Here she's all like, "Hell yeah, I'm sexy and I know it."
Even her windy beach hair is sexy. How is that POSSIBLE?
She must be a mythical creature. She's too stunning to be human.
Even this is hot.
And this.
I can't handle this anymore. It's all too beautiful.
EMILIA.
Sdfsdjsdirweieijnskdfksdsaerewi OMG.
Sexiest.
Woman.
Alive.
Congratulations, Khaleesi. I feel like we did this together, you and me. Thanks making the world a better, sexier place. God bless.