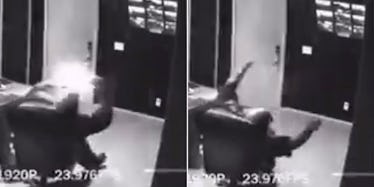 Eerie Video Shows CeeLo Green's Samsung Phone Explode As He Uses It
Twitter
Scary footage surfaced on Saturday, December 17, that shows CeeLo Green's cell phone exploding next to his head while he was using it.
In the publicized surveillance clip, the 42-year-old rapper can be seen working in a studio moments before his phone randomly combusts.
Just as the devise bursts into a fireball, CeeLo is sent plummeting to the ground. He stays there, completely motionless, until the video cuts out.
CeeLo... CeeLo, are you OK?! Someone send help, I'm getting anxiety!
The shocking surveillance clip lacks a time stamp, so the exact time of the combustion wasn't documented.
Plus, because the video ends so abruptly, the amount of time CeeLo spent lying on the ground post-explosion is not yet known.
CeeLo has yet to comment on his exploding device, and the type of phone he was using has not yet been confirmed.
However, many Twitter users have already suspected he was using a Samsung phone, and based off recent reports, their assumptions aren't too far fetched.
Back in September, the Samsung Galaxy Note 7 was recalled because of an explosive rechargeable battery inside the phone.
Since then, there have been multiple cases about the phone combusting without warning.
It's pretty terrifying, if you ask me. In fact, if my cell exploded mid-call, I'd probably ban phones entirely and go back to homing pigeons.
In October, the threat of an exploding Samsung Galaxy Note 7 became such a serious issue that the US Department of Transportation banned them from airplanes.
Before you get too suspicious, I'm not trying to bash Samsung by any means.
All I'm saying is that there are a ton a facts to support why people are assuming CeeLo was victim to an explosive Galaxy Note 7 -- but, again, nothing has been confirmed.
Let's just hope CeeLo was able to stand up soon after the combustion and shake it all off. We'll be waiting for the confirmation that he's doing OK, regardless of what type of phone he was using.