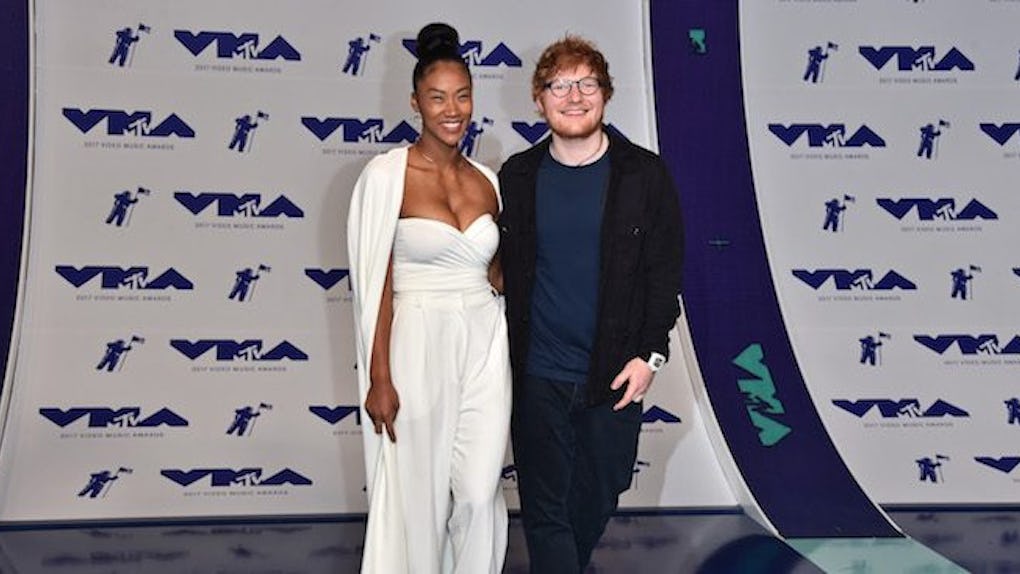 Alberto E. Rodriguez/Getty Images
Who Is Jennie Pegouskie? Ed Sheeran's 2017 VMAs Date Is In "His Shape Of You" Video
Ed Sheeran showed up at the MTV Video Music Awards on Sunday night with a date who had a lot of fans freaking out — who is Jennie Pegouskie? But there's no blame if you can't quite put your finger on why she looks so darn familiar (and stunning). Pegouskie is the amazing, ass-kicking love interest from Sheeran's "Shape Of You" video.
Pegouskie is totally gorgeous as Sheeran's boxing instructor/love interest in the video, and she was gorgeous in a whole different way as she walked the red carpet at the VMAs on Aug. 27.  In a white strapless pantsuit with her hair pulled into a huge ballerina bun at the crown of her head and a delicate gold necklace, she looked stunning (but, fittingly, like she could still take you down if needed).
Pegouskie is a model and dancer who, besides being seen in Sheeran's video, has also toured with Macklemore and Ryan Lewis, according to her bio, so she's no stranger to the camera. However, she wasn't originally meant to be in the "Shape Of You" video — she told Washington state news source K5 that she had originally been hired as a production assistant for the video (and cast the star), but ended up taking the role herself.
What she's not? Sheeran's girlfriend (as far as we know).
Sheeran has been dating his high school sweetheart Cherry Seaborn since 2015, and the two are supposedly pretty serious.
In a March interview with Rolling Stone, Sheeran said,
One day this will f*cking end. And I know the one person that's going to remain constant is Cherry. I should just enjoy this while it's there, but not let it become my reality. Because that's not the reality I want to live in.
Though they knew each other in high school, they supposedly didn't start dating until they reconnected a few years ago via a mutual friend.
There have been no rumors of heartache on the horizon for the happy pair, so it seems pretty likely that Pegouskie is just there as a friend. (Because, I mean, come on, who wouldn't want to walk that red carpet?)
Can we hope this means that she's going to join him on stage at some point, at least? I want to see that flying leap just one more time.