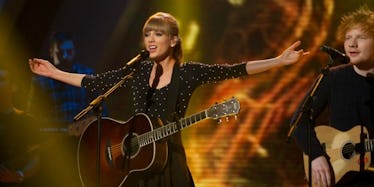 Ed Sheeran Says Taylor Swift Wasn't Popular In School, Takes Fame 'A Bit Far'
REX/Shutterstock
It's no secret singers Taylor Swift and Ed Sheeran are best buds.
Following the release of Sheeran's two new singles, "Castle on the Hill" and "Shape of You," earlier this month, T Swift fangirled so hard for her friend on Instagram.
Now, it appears it's the 25-year-old's turn to talk about his bestie.
Ed Sheeran is on the cover of the March issue of British GQ, and in an interview with the magazine, Sheeran talked about how he and Swift weren't exactly the coolest kids on the block during their school days.
He said,
There's an underdog element to it. Taylor [Swift] was never the popular kid in school. I was never the popular kid in school. Then you get to the point when you become the most popular kid in school – and we both take it a bit too far.
Where to even begin? I find it difficult to believe Taylor Swift didn't sit at the popular table in high school, don't you?
Can't you just see her walking to class, looking absolutely perfect, while everyone else in the hallway watches on?
Also, what's this "take it a bit too far" thing? What exactly is Ed Sheeran talking about? I wonder how Taylor Swift feels about all of this.
Sheeran explained himself further in the GQ interview. He said,
She wants to be the biggest female artist in the world and I want to be the biggest male artist in the world. It also comes from always being told that you can't do something and being like, 'Fuck you. I can.'
OK, I guess that first quote makes a lot more sense, now.
Sheeran elaborated on his professional goals and outlined his target for the future.
He said,
Adele is the one person who's sold more records than me in the past 10 years. She's the only person I need to sell more records than. That's a big fucking feat because her last album sold 20 million. But if I don't set her as the benchmark then I'm selling myself short. In a 100m sprint to get a No 1 album I just know I'm going to win. I don't care who's doing what. I just know I'm going to win. I'm going to make sure I come first.
Clearly, it's not hard to see why Ed Sheeran and Taylor Swift are so successful in their careers.
Citations: Ed Sheeran Says He and Taylor Swift 'Both Take It a Bit Too Far' Because They Weren't Popular in School (Entertainment Tonight)