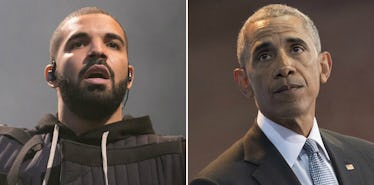 Everyone's Pissed At Drake For This Meme He Posted As A Tribute To Obama
REX/Shutterstock
Drake, Drake, Drake, Drake, Drake. Man, you messed up.
On Tuesday night, President Barack Obama gave a moving farewell address that left the world in tears. It was emotional, honest and made everyone reflect on everything he's accomplished in the past eight years.
Many people, including celebrities, immediately went to Twitter and Instagram to share their reactions. Drake was one of those people, except the internet is not too happy with the meme he posted to commemorate the president.
Drake added a pic of Obama standing at the podium, except he photoshopped the President's beard to match his own.
People immediately commented on the post and called the Views rapper out for disrespecting the president and making it about himself.
Some people defended Drake, like this guy.
But for the most part, people didn't find the photoshop funny. A lot of people considered it a disrespectful move and an inappropriate way to honor Obama's legacy.
Even if Drake messed up with the pic, at least he wrote a nice message for the president. He captioned the photo,
As a Canadian that calls America home for part of the year I will always carry your words and the memory of your time in office with me as inspiration. Big up yaself O.
I guess he gets half credit?
Maybe instead of posting memes, Drake should be focusing on his new relationship with Jennifer Lopez.
At the end of December, JLo fueled rumors she was dating Drake by posting a pic on Instagram of them cuddling.
According to Page Six, however, the entire relationship is a publicity stunt. A source told the outlet,
This relationship is fake, it is just a publicity stunt to publicize their record together. If Jennifer and Drake were really dating, they'd be way more private about it.
Hmm, good point, but who knows what's true these days.
We all know Drake is supposed to be with Rihanna (RIGHT?!) so either way, this relationship won't last long.
Citations: Drake Meme About Obama (BroBible)