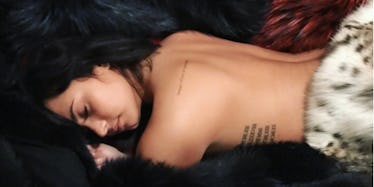 Demi Lovato Casually Takes A Nap While Lying Topless On A Bed Of Fur
Instagram
Demi Lovato knows how to nap! The singer shared the coziest looking photo of herself sprawled on top of a bed of fur coats naked on Sunday.
Like, seriously, look up "luxury" in the dictionary and I'm sure you'll find this photo of Demi just casually snoozing in the nude while a giant pile of multi-colored furs envelops her. Honestly, I'm getting a severe case of nap envy right now.
Where can I find this glorious expanse of furs?
Apparently Demi's little snooze happened during a particularly decadent outfit fitting. After her little nap, Demi uploaded the photo with the caption "mid fitting nap time," accompanied by a grinning devil face.
She also posted a shot of herself posing in the fur pile on her Snapchat, looking much more awake.
It's clear Demi has been resting easy recently. Not only has she found the most comfy napping spot in the world, but she's also found a guy she loves and is celebrating five years of sobriety.
Last week, Demi sparked engagement rumors when she showed off a diamond ring after celebrating her boyfriend's, MMA fighter Guilherme "Bomba" Vasconcelos, birthday with him at Disneyland.
Even if the hot new couple aren't hearing wedding bells, Demi and Bomba are obviously head-over-heels for each other. I mean, just look at this adorableness!
And another thing Demi has to be happy and relaxing in expensive furs about — she just celebrated five years of sobriety a couple of days ago.
The singer has been open about her struggles with addiction in the past, and shared an Instagram post thanking her friends for standing by her.
So to recap: Demi is in a great place romantically, mentally and, as that cozy fur pic proves, physically right now. Suddenly, I'm looking into giant fur blankets on Amazon...