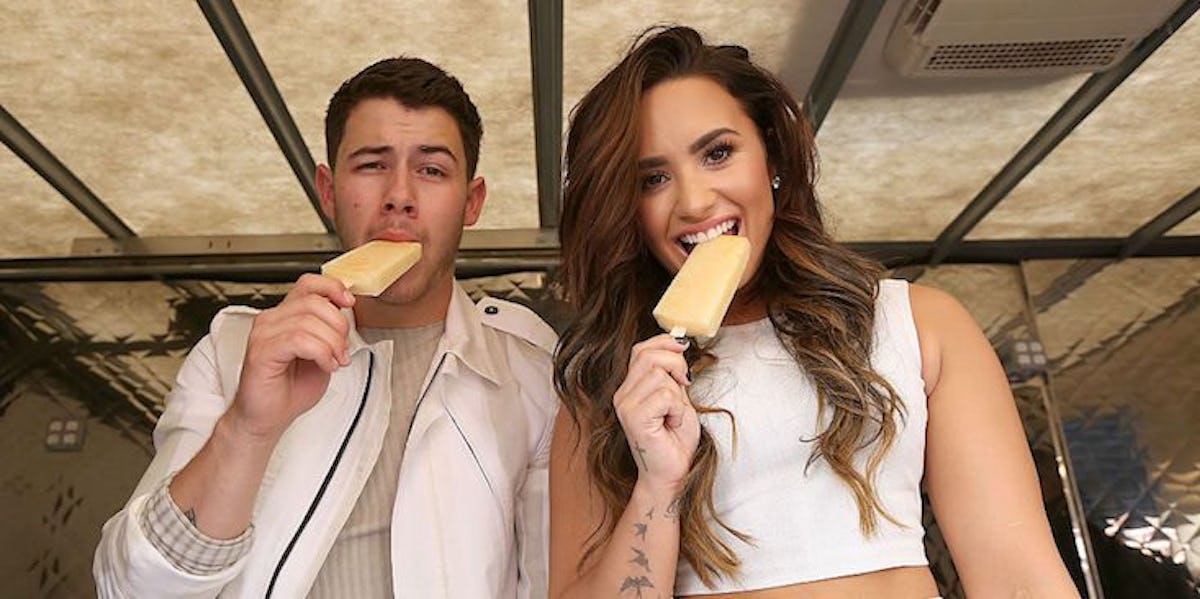 Fans Think Demi Lovato's "Ruin The Friendship" Is About Falling For Nick Jonas
Jesse Grant/Getty Images
Attention world. On Friday, Sept. 29, Demi Lovato will drop her new album, Tell Me You Love Me, and it will be everything we all hoped it would be and more. If you weren't a Lovato fan before, it's time to hop on that bus because this music will be a must-hear. If you don't believe me, turn on "You Don't Do It For Me Anymore" and try not to throw your head back and belt it. Now that her new album is officially almost here, rumors are flying all over the place. Her new song "Ruin The Friendship" is all about friendships ending, which means it could be about so many different people from Lovato's life.  According to Twitter, it looks like fans think Demi Lovato's "Ruin The Friendship" is about Nick Jonas.
Lovato, who is notorious for writing songs with cryptic messages deep within them, is reaming silent (of course). That's why we all must obsess over the lyrics. We gotta know! Who could this song really be about? On Thursday, Sept. 28, Lovato tweeted a short preview of the song to get fans excited. In the tweet below, you can listen to a portion of her new song "Cry Baby" and then part of "Ruin The Friendship."
According to the preview, the lyrics to "Ruin The Friendship" read:
Your body's looking good tonight, I'm thinkin' we should cross the line. Let's ruin the friendship. Let's ruin the friendship.
Wow, OK, steamy. Clearly, this song is about having feelings for a friend whom you want to take things to the next level with... like, Nick Jonas, for example. The two have been best friends for years, but according to fans, this song might mean Demi has always wanted to be more.
However, before the lyrics dropped, some Twitter fans believed the song would be about Selena Gomez. One fan on Twitter wrote, "Is Demi's new song 'Ruin the Friendship' about Selena? Demi said we would know who she's talking about."
OK, OK, but then another fan wrote, "I bet Ruin the friendship is just about not falling in love with Nick so to save their friendship." Yup, my feelings exactly.
This fan believes Lovato had the chance to be with Nick Jonas but chose to ignore those feelings in hopes of not ruining the friendship. If that is true, OMG. Here's what other fans are saying:
On the other hand, some fans think the song is definitely not about Jonas.
She's got a point. I guess you'll have to decide for yourself after listening to the full track tomorrow.
In a recent interview with MTV, Lovato mentioned that her new song is about someone her fans know. She explained: "Sometimes you put out music that you just feel like everyone is going to know who it's about," saying, "Headlines are going to come out of it, and it's like, when you write a song, you're just being vulnerable, and you're just writing about something that's inspiring you, so all the baggage that comes with it is what I'm kind of nervous about."
Could this possibly be about "Ruin the Friendship"? Will we ever know who the song is about? One day I hope Lovato publishes a book with the meaning behind each of her songs. That would be a dream come true. It would also help my obsession with her music.
Lovato also explained,
I think that everything happens for a reason, and certain emotions are felt at certain points in your life, and you don't always have to explain them to people. So whatever you want to think about it — you go into whatever theories you have — fine. But I know what it's about and who it's about and I'm just going to let it be.
So, let's all get in our cars, turn up the volume, and jam out to this amazing album. I'm going to blast this album for the next month. Sorry, not sorry, y'all. Demi, you are my forever girl! You do not need to tell us to love you. We already do.