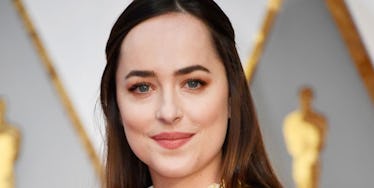 Dakota Johnson And Her 2017 Met Gala Date Are Slaying The Carpet
Getty Images
The Met Gala is the perfect time to make a statement, whether that's with your outfit or with your date.
Our "Fifty Shades" erotica queen, Dakota Johnson, was seen leaving her New York City hotel in a black number with some serious ruffles, which was accompanied by a sleek yet messy updo.
You've got to admit, it's pretty glamorous... and it definitely has a subtle bondage vibe (I'm sorry, I'm a former romance novel review editor, and it's my duty to point out the obvious).
But what got our attention more than her dress was the fella on Dakota's arm.
Have a look at the video below and see if you can sense any ~romantic~ vibes happening between the two.
He's wearing a black skirt over black pants and a pink AC/DC blazer.
Not entirely sure what's happening with the ensemble, but hey, at least he's not wearing that ... thing ... we saw on Katy Perry. We're not entirely sure what to call it, to be honest.
Anyway: At one point, it seems someone sarcastically yells "Dakota," referencing the mystery fella's long locks. He is friendly and cordial to the cameras, but a nice demeanor isn't going to make people stop questioning who you are and what you're doing with Dakota.
Many were questioning who would accompany the starlet on the red carpet, suggesting that perhaps her on-again-off-again musician boyfriend Matthew Hitt would be the lucky dude.
But so far, it seems as though Matty has not been mentioned.
Are those red-hot "Fifty Shades" scenes affecting the starlet's relationship?
Though we might not be able to figure that out tonight, one thing we do know is the mystery man is Gucci's creative director, Alessandro Michele, who is debuting his first fragrance for the brand and Johnson is one of the faces for the campaign.
MYSTERY SOLVED, YOU GUYS!
Well, not with her love life, but with the guy she was photographed with at any rate.
Now, we have some fashion to attend to.